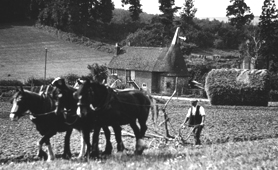 This is a brief guide to researching records of villages and the countryside. This guide will help you to identify some key sources of information which will help you with your research.
What do I need to know before I start?

Try to find out:

the name of the local parish
if the village you are researching has been known by any other name
if there have been any changes to county names and boundaries in the area you are researching

What records can I see online?

Historical Directories (1750-1919)

Search the University of Leicester's Historical Directories website for local and trade directories describing rural communities and their principal inhabitants.
What records can I find at The National Archives at Kew?
What records can I find in other archives and organisations?

Local authority records

Consult records of local authorities and parishes in local archives and libraries. Use Find an archive to find their contact details.




The National Archives' catalogue has details of collections held by over 2500 archives across the UK. Search our catalogue and refine your results using the filters to find information about records held in local archives in England and Wales, dating from the eighth century to the present day.

What other resources will help me find information?
The National Archives is not responsible for the content of external websites.