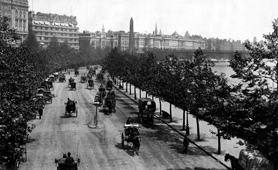 This is a brief guide to researching records of towns and cities. This guide will help you to identify some key sources of information which will help you with your research.
What do I need to know before I start?

Try to find out:

any former names of the town or city
any counties the town or city may have been in
What records can I see online?
What records can I find at The National Archives at Kew?

Board of Health correspondence (1846-1871)

Browse Discovery, our cataloguea search tool with descriptions of tens of millions of documents from the UK central government, law courts, other national bodies and from over 2,500 archives across the UK for records of the General Board of Health and the Home Office in MH 13.




This seriesa grouping of records held by The National Archives, based on common function or subject contains correspondence with local authorities and government departments relating to the provision and administration of public health, sanitary and other services under the several Public Health and Local Government Acts passed between 1848 and 1871. A few volumes relate to special subjects such as cholera, yellow fever, and metropolitan nuisances.

Housing and Local Government records (1919-1970)

Browse our catalogue for records of the Ministry of Housing and Local Government and related bodies such as the Ministry of Town and Country Planning and the Ministry of Health in HLG.

Records of the Department of the Environment (1951-2006)

Browse our catalogue for records of the Department of the Environment and other related bodies in AT.


The records concern housing, planning, new towns, inner city matters, finance and local government, environmental protection and services, the countryside, sport, recreation and parks, water services, ancient monuments, estate management, construction, and traffic and transport.
What records can I find in other archives and organisations?

Local authority records

Consult records of local authorities and parishes in local archives and libraries.

The National Archives' catalogue has details of collections held by over 2500 archives across the UK. Search our catalogue and refine your results using the filters.

What other resources will help me find information?
The National Archives is not responsible for the content of external websites.