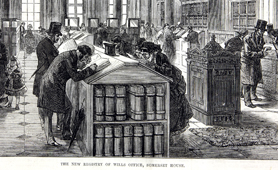 This is a brief guide to researching records of a will or administration after 1858 which was provedprove - to obtain legal authentication in England and Wales. Wills proved from 1858 to the present day are held only by the Probate Service.
What do I need to know before I start?

Try to find out:

the name of the person
the geographical location
the date range to focus your search
What records can I see online?
What records can I find at The National Archives at Kew?

Selected disputed wills (1858-1960)

You can search our catalogue by name in J 90 and J 121 for 7% sample of papers relating to cases of disputed probate (1858-1960).

These are listed by the full name of the testator whose will was being disputed, and the name of the suit (for example, Testator: Finlay, Anne Case: Raynor v Bevan).
What records can I find in other archives and organisations?

Probate records (1858-present)

Request copies of wills and administrations from the Probate Service. The index to these records, known as the National Probate Calendar, is available to consult at the searchroom at the Royal Courts of Justice (court 38).

Partial indexes are available to consult at:
What other resources will help me find information?
The National Archives is not responsible for the content of external websites.