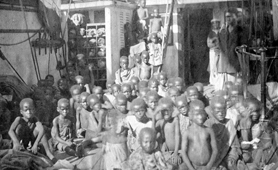 This is a brief guide to finding records of slavery or slave owners. The most important records for identifying slaves are the local slave registers, 1812 to 1851. Registers from 1812 to 1834 can be viewed online (£There may be a charge for accessing this information. Searching indexes may be free.). The National Archives holds duplicates from 1812 to 1851. It is difficult to find particular slaves, and registers can be complicated to search.
What do I need to know before I start?

Try to find out:

the name of the slave and the slave owner, including possible variations in spelling
where they lived, including the parish if possible
as much information as possible about dates of births, marriages and deaths
What records can I see online?
What records can I find at The National Archives at Kew?
What records can I find in other archives and organisations?

Records held elsewhere

Search our catalogue and refine your results using the filters.

Records held in the archives of other countries

Find contact details for archives elsewhere using Find an archive.
What other resources will help me find information?
The National Archives is not responsible for the content of external websites.