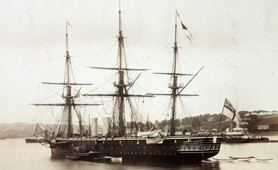 This is a brief guide to researching records of the Royal Naval Reserve. These records are incomplete and whilst many records are available at The National Archives, some service recordsservice record - a document recording the career of an individual in the armed forces are currently held by the Ministry of Defence.
This guide will help you to find out if the information you are looking for exists and, if it does, where to find it.
What do I need to know before I start?

Try to find out:

the name and rank of the person
the date range and service number to help focus search
What records can I see online?
What records can I find at The National Archives at Kew?

Indexes to ratings' service records (1908-1955)

Look in BT 377 for alphabetical name indexes to the service records which are arranged by service number. Some names appear only in indexes and not in records.

Miscellaneous information sources on ratings

Look at ADM 23/170 for information on Admiralty pensions granted to RNR ratings. Service records of Merchant seaman for the war period and Second World War naval operations records may also be useful.
What records can I find in other archives and organisations?
What other resources will help me find information?

Books

Consult the published Navy Lists to follow a Royal Naval Reserve officer's career. RNR officers have been included since 1862. Confidential Navy Lists (ADM 177) contain information omitted during the world wars.

For RNR officers the Navy List gives name, rank, date of commission and seniority. It should also indicate names of ships served on.

Use our library catalogue to find a recommended book list.

The books are all available in The National Archives' reference library. You may also be able to find them in a local library. You can buy from a wide range of history titles in our bookshop.
The National Archives is not responsible for the content of external websites.