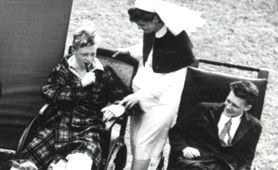 This is a brief guide to researching records of nurses who served with the Royal Air Force. While some records can be found at The National Archives, most material is currently held by the Ministry of Defence and the Red Cross.
What do I need to know before I start?

Try to find out:

the name of the person
the name of the nursing service
a geographical location and date range to help focus your search
What records can I see online?
What records can I find at The National Archives at Kew?
What records can I find in other archives and organisations?
What other resources will help me find information?
The National Archives is not responsible for the content of external websites.