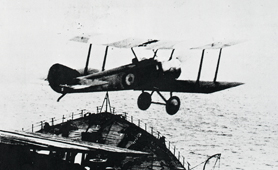 This is a guide to help you with your research. Royal Naval Air Service (RNAS) records are kept in different places depending on when the ratingA seaman ranking lower than an officer. These are the most junior class of seamen in the Royal Navy. served. This guide will help you to find out if the information you are looking for exists, and if it does where to find it.
What do I need to know before I start?
What records can I see online?
What records can I find at The National Archives at Kew?

The significant collections of Royal Naval Air Service ratings' records are available online - please see above.

What records can I find in other archives and organisations?

Records held elsewhere

Search our catalogue and refine your results using the filters.
What other resources will help me find information?
The National Archives is not responsible for the content of external websites.