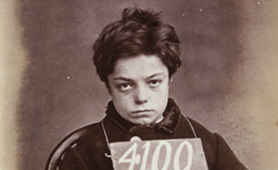 Many records of prisoners survive and are held by The National Archives, prisons and local archives. Prison registersa register of incarcerated inmates created after 1878 are more likely to be found in a local archive than at The National Archives.
Work on indexing The National Archives' records of prisoners by name, crime, court and locality is ongoing.
Records of prison staff are more likely to be found in local archives than The National Archives.
What do I need to know before I start?

If you are looking for a prisoner, try to find out:

their name, including variant spellings
when and where they were imprisoned
What records can I see online?
What records can I find at The National Archives at Kew?

Prison registers and calendars of prisoners (1770-1971)

Search Discovery, our cataloguea search tool with descriptions of tens of millions of documents from the UK central government, law courts, other national bodies and from over 2,500 archives across the UK, by date or place, in HO 23, HO 24, HO 140 and PCOM 2 for registersRegister - a volume of regularly and formally recorded information and calendarscalendar - a list, usually in chronological order, in which a detailed summary of individual documents is provided of prisoners. These are arranged by prison or by county and individual prisoners' names do not usually appear in our catalogue.

Quarterly returns of convicts in prisons and prison hulks (1802-1876)

Search our catalogue in HO 8, by name of prison or prison hulk and year, for records of prisoners held in these institutions. Search also T 38 for lists of crews and convicts on convict hulks.

Petitions for clemency (1762-1854)

Browse our catalogue in HO 17 (1819-1839) and HO 18 (1839-1854) for petitions of clemency. They are arranged in coded bundles so you will need to use the registers in HO 19 to identify the right one. Some files are searchable by name in our catalogue.

You can also search for petitions by date in HO 48 and HO 49 (c.1762-1871).

Prisoners tried at the Old Bailey or the Central Criminal Court (1815-1849)

Browse HO 16 for lists of prisoners arranged by date.

Court orders (1842-1871)

Consult PCOM 5 (which is indexed by PCOM 6) to find details of a prisoner's movements from prison to prison, misconduct, physical description and next of kin.

Printed lists of prisoners tried at Newgate (1782-1853)

Browse our catalogue in HO 77 to find printed lists of prisoners tried at Newgate.

Indexes of prison licences for men (1853-1887)

Consult the indexes of prison licences

documents - popularly known as 'tickets of leave' - authorising convicts of good behaviour to be released before completion of their sentences

in PCOM 6 to locate male prison licences held in PCOM 3.

Registers of superannuation and retirement allowances for prison staff (1834-1925)

You may be able to find mentions of prison staff details (such as name, age, religion or details of service) in PMG 28.

Browse PMG 28 by date of retirement and then under 'P' for records of prison staff. The pensioners of the Convict Establishment and Convict Prisons are also generally entered in separate volumes.

Prison staff appointment books (1887-1898)

Browse HO 160 by date of appointment, transfer or dismissal of prison staff. These records are not complete and do not provide any additional personal information.
What records can I find in other archives and organisations?

Records held elsewhere

Search our catalogue and refine your results using the filters.
What other resources will help me find information?
The National Archives is not responsible for the content of external websites.