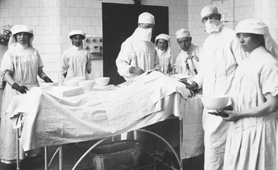 The National Archives does not hold patients' records and is not the best place to find information about doctors or nurses. However, this guide will help you find the doctors and nurses records that we do hold, most of which relate to the administration and policy of health services, as well as records from other archives. There are many sources of information about medical staff, most of which are in other archives, although not all records survive. Most surviving records from hospitals are in local archives.
What do I need to know before I start?

Try to find out:

the full name of the patient, doctor or nurse
the hospital they worked or were treated in
approximate dates of employment or treatment
What records can I see online?
What records can I find at The National Archives at Kew?
What records can I find in other archives and organisations?

Wellcome Library

Visit the Wellcome Library to view records of the Queen's Nursing Institute (1887-1997), including lists of names submitted for appointment as Queen's Nurses (1891-1969) and badge registers (1907-1945).

London Metropolitan Archives

Contact London Metropolitan Archives for records of London training schools for nurses, including Guy's Hospital and the Nightingale Training School.


Lambeth Palace Library

Browse the name index to medical licences issued by the Archbishop of Canterbury from 1535 to 1775 and held by Lambeth Palace Library.

What other resources will help me find information?
The National Archives is not responsible for the content of external websites.