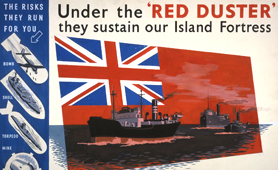 This is a brief guide to researching records of merchant seamenseafarers on merchant vessels - ships that transport cargo or passengers serving after 1917. Many, but not all, records of merchant seamen survive from 1918 onwards. The records are kept in a variety of archives.
What do I need to know before I start?

Try to find out:

the name of the merchant seaman
their date of birth
their place of birth

What records can I see online?
What records can I find at The National Archives at Kew?

Seamen's pouches (1941-1972)

Search Discovery, our cataloguea search tool with descriptions of tens of millions of documents from the UK central government, law courts, other national bodies and from over 2,500 archives across the UK, by name in BT 372 and BT 391 to see if a seaman's pouchan envelope or pouch assigned to each seaman containing employment records survives. Not every pouch survives and many were destroyed before transfer.

Seamen's pouches are also available for the Second World War period arranged in alphabetical ranges in BT 390.

Fourth Register of Seamen combined index (1918-c.1972)

Consult the registera volume of regularly and formally recorded information in BT 364 (1918 to c.1972). These index cards are on microfiche (the originals are held by Southampton Archives).

Fifth Register of Seamen's Service (seamen's docket books) (1941-1972)

Browse our catalogue for seamen's docket booksseamen's docket book - document or register giving details of service in BT 382.

Index of First World War Mercantile Marine Medals and the British War Medal (1914-1925)

Look through the microfiche index in BT 351 by name for recipients of medals.

Agreements and crew lists (1835-1994)

Search for agreements and crew listswritten agreements regarding conditions of service and crew lists filed by ships' masters with the Registrar General of Shipping by ship's official number in BT 99, BT 380 and BT 381 or by ship's name if it was a famous ship in BT 100.

You can obtain the ship's official number from Miramar Ship Index (£There may be a charge for accessing this information. Searching indexes may be free.).

For some dates after 1927, you will have to browse our catalogue as the numbers are given as ranges.

Merchant Navy gallantry awards for the Second World War (1939-1947)

Search our catalogue by name of person or ship in T 335 to find what the award was, the person's rank at the time, and the ship they were serving on.

Narrow your search by using quotation marks to find a ships's or person's full name, such as "Sydney Star" or "John Williams"

What records can I find in other archives and organisations?
What other resources will help me find information?

Books

Some or all of the recommended publications below may be available to buy from The National Archives' Bookshop. Alternatively, search The National Archives' Library to see what is available to consult at Kew.

Read My ancestor was a merchant seaman by Christopher and Michael Watts (Society of Genealogists, 2002).

Read Tracing your ancestors in the The National Archives by Amanda Bevan (The National Archives, 2006).
The National Archives is not responsible for the content of external websites.