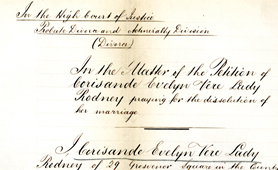 This is a brief guide to help you with your research. Divorce records are incomplete and are kept in a variety of archives. This guide will help you to find out if the information you are looking for exists, and if it does where to find it.

What do I need to know before I start?
What records can I see online?
What records can I find at The National Archives at Kew?
What records can I find in other archives and organisations?
What other resources will help me find information?
The National Archives is not responsible for the content of external websites.