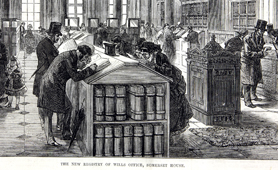 This is a brief guide to researching death duty records between 1796 and 1903. Death duty records can be complicated and difficult to understand, so some patience may be required when researching these records.
The majority of the records which still exist can be found either online or at The National Archives in Kew.

What do I need to know before I start?

Try to find out:

the name of the person
a geographical location to focus your search
an approximate date of death
What records can I see online?
What records can I find at The National Archives at Kew?
What records can I find in other archives and organisations?

Records held elsewhere

Search our catalogue and refine your results using the filters.
What other resources will help me find information?

Books

Search The National Archives' bookshop to see whether any of the publications below may be available to buy. Alternatively, look in The National Archives' library catalogue to see what is available to consult at Kew.

Karen Grannum and Nigel Taylor, Wills and probate records: A guide for family historians, 2nd edition (The National Archives, 2009)

Consult Ham's Inland Revenue yearbook (from c1881) for the official advice on the process of getting a grant of probate or letters of administration, or paying death duties.
The National Archives is not responsible for the content of external websites.