Census records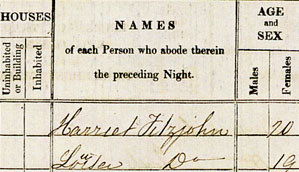 Census records for England and Wales from 1841 to 1911 are available online (£There may be a charge for accessing this information. Searching indexes may be free.).
The 1921 census, and all later censuses which survive are kept by the Office for National Statistics. These censuses will only be available 100 years after the date they were conducted.
The work of putting the 1841-1911 census records online has been carried out by our partners. It is free to search their websites, but there may be a charge to view full transcriptions and download documents.
In person
Most local and county record offices hold microfilm or microfiche copies of the 1841 to 1901 census returns for their own areas. Census returns can also usually be viewed at Church of Jesus Christ of Latter Day Saints' Family History Centres.
Research guidance
Use our research guide on the census for further information on how to search these records.
Bookshop
Peter Christian and David Annal, Census: The Expert Guide (The National Archives, 2008)