Security Service release: German intelligence agents and suspected agents
Folkert Arie Van KOUTRIK, alias WALBACH
Catalogue ref: KV2/3643
Date: 25/05/1940 - 01/03/1949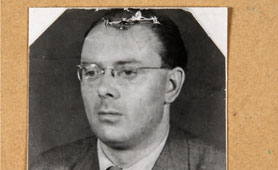 Van Koutrik was a Dutch double agent who was first employed by the Secret Intelligence Service (SIS - commonly known as MI6) in the Netherlands from 1937 and then by the Security Service (MI5) in 1940 in the UK. Van Koutrik was then re-employed by SIS in 1942 at a refugee reception centre in the UK. In 1946 it was discovered from interrogation of German prisoners that he had been 'turned' by the Abwehr in 1938, and had operated as a double agent using the codename 'Walbach'. The information he had given the Germans led to the kidnapping of MI6 officers Richard Stevens and Sigismund Best by the Gestapo at Venlo in 1939. Van Koutrik's employment at MI5 was brief, not least because of his 'antagonistic' attitude towards other officials, but significant as it represented the first time the Security Service had been penetrated by a German agent, according to Christopher Andrew's authorised history of MI5. A post-war inquiry by the SIS concluded that Van Koutrik had 'blood on his hands'.
File KV2/3643 is available to view online.
Claudius Aleksandrovich VOSS, alias Klavdiy VOSS/FOSS; Boris FOSS; ALEKSANDROV
Catalogue ref: KV2/3644
Date: 10/06/1932 - 19/12/1949
A veteran of the Czarist army in WWI, in 1918 Voss joined the White Russian army in opposition to the Bolshevik revolution and was involved in anti-Soviet intelligence work. When the Soviet Union entered the Second World War on the Allied side in 1941 he collaborated with German naval intelligence and then with the Abwehr. He was also suspected of being an NKVD agent. The file contains a report on the Turkul organisation of White Russian émigrés, run by Anton Turkul, which allegedly supplied disinformation to the Germans on Soviet troop movements.
File KV2/3644 is available to view online.
Gregori Alexander MESSEN-JASCHIN
Catalogue ref: KV2/3653
Date: 29/10/1939 - 17/06/1959
A Latvian banker who was reported to have had a business relationship with Goering in 1940. There are allegations in the file that Goering, via Jaschin and a British solicitor, had arranged to supply German war materials to the British 'for substantial financial considerations'. Goering is described in the file as 'essentially corrupt and venal and might lend himself to a conspiracy with the enemy'. The file notes his 'ambition to supplant Hitler'. There is a suggestion that Jaschin could take up negotiations with Goering to 'learn how far Goering is prepared to go'. During the Second World War, Messen-Jaschin was influential with Nazi officialdom, exceptionally obtaining permission to export coking coal from Germany. In the 1950s he was involved in trade in strategic material with the USSR for his company SFINDEX. Jaschin is described in the file as a 'somewhat shady character'.
File KV2/3653 is available to view online.