Communists and suspected Communists, including Russians, and Communist sympathisers
Kenelm Hubert Digby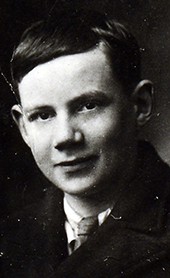 Digby first came to notice in 1932 when he embarked for Leningrad and in 1933 he was the proposer of the pacifist Oxford Union motion: 'That this House Would in no Circumstances Fight for its King and Country'. This prompted Vernon Kell, the first head of the Security Service, to ask the Chief Constable of Oxford for his home address.
After being called to the Bar and several years working as a District Officer for the Sarawak Government of Rajah Brooke, Digby was in 1939 legal adviser to the National Council for Civil Liberties (NCCL) and a member of the legal group of the Communist Party. He was again in Sarawak from 1940 to 1951, latterly as a judge, and on return to the UK was again involved with the NCCL and with the Kenya Provisional Committee.
KV2/3810 contains a photograph of Digby taken in 1928 and includes a list of South African delegates to the 4th World Festival of Youth and Students in 1953 which includes Nelson Mandela. Digby is described in the file as being 'a sincere lifelong communist' who is 'shackled by the charms of this alien philosophy'.
The files span KV2/3809 to KV2/3810.
Geoffrey Henry Cecil Bing, alias Adams
The barrister Geoffrey Bing came to the notice of the Security Service in 1935 as a member of the Council for Civil Liberties founded by the Communist Party and was involved with other left-wing organisations and in the Spanish Civil War. By 1938 he was reliably reported to be a member of the Communist Party's secret legal group. A watch was kept on him during his army service and KV2/3812 contains a number of Special Observation Reports as well as letters of support from his commanding officers.
In May 1945, the MI5 officer Desmond Orr wrote, with reference to Bing, that it would probably interest Clement Attlee to know that certain Communists were now seeking Parliamentary representation in the guise of genuine Labour candidates, although he added that 'protection of the Labour Party fortress from such infiltration was almost certainly no concern whatever of the Security Service'. However Bing was elected a Labour Member of Parliament in July 1945 and there was evidence to suggest he was still a member of the Communist Party. A later note confirms that there was 'no question of his communist sympathies and his present seat in the House of Commons...must be regarded as another example of crypto-communism'.
Bing eventually lost his parliamentary seat in 1955 and later became an adviser on constitutional matters to Dr Kwame Nkrumah, the first Prime Minister of Ghana, where he was described as posing 'the most formidable single threat to British interests there'.

The files span KV 2/3811 to KV 2/3819. KV 2/3812 has been digitised.
Michael Scudamore Redgrave; Rachel Redgrave, alias Kempson
The actor Michael Redgrave first came to the Security Service's notice in 1940 when he signed the manifesto of the Communist-inspired 'People's Vigilance Committee'. This led to Mr Jardine Brown from the BBC writing a concerned letter in October 1940 to Major SC Strong for advice on 'whether or not it is wise for us to employ Michael Redgrave for broadcasting'. Strong thought Redgrave had 'made a fool of himself' but saw no objection to his continued employment.
Redgrave and his wife, Rachel Kempson, were both involved in the Unity Theatre Communist Group and he was active in other left-wing cultural affairs and by 1944 was a leading member of the Actors Group of the Communist Party. The file includes a list of 21 occasions on which Redgrave came to the attention of Special Branch between 1941 and 1949.
The file is also notable for related material on the case of Guy Burgess, who was at Cambridge University with Redgrave and who later renewed his acquaintance. Redgrave visited Moscow over Christmas and New Year in 1958-1959 as part of the English Shakespeare Company's touring production of Hamlet. The file contains a copy of a letter written by Burgess to his mother in which he recounted his meeting with Redgrave. He described Redgrave's Hamlet as a 'triumph' calling it 'the best Hamlet I've ever seen...better than Olivier'.
KV 2/3822 has been digitised.
Ivan Alexsandrovitch Ivanov Serov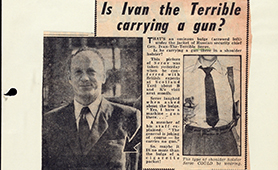 Said to have been a 'devoted' friend of Stalin, Serov was a GPU/NKVD veteran who became deputy minister of Internal Affairs under Beria and was one of the few to survive the purge of Beria's adherents, becoming Chairman of the Committee of State Security. In 1956 Serov visited London to assess security arrangements ahead of Nikita Khrushchev's visit later that year.
He denounced the Americans as 'naive' and the French and Italians as 'degenerate' but claimed that 'Russians admired British sportsmanship and particularly our ability to be good losers'. Other aspects of British culture intrigued him, including the Grand National and he reportedly displayed 'a considerable familiarity with detective fiction such as Sherlock Holmes'. Observers report him drinking vodka, telling anti-Semitic jokes and having a 'weakness for the opposite sex'.
Although there were surprising gaps in his general knowledge (he did not realise Ireland was an independent country), he was assessed as a 'capable organiser who is completely ruthless with the cruelty of a Spanish Inquisitor rather than that of a sadist'. In the 1950s Serov was briefly head of the KGB and was then moved to be head of Soviet Military Intelligence (GRU).
The files span KV 2/3829 to KV 2/3830. KV 2/3830 has been digitised.
Dorothy Padmore, alias Pizer
A communist sympathiser in the 1930s and 1940s, Pizer became the partner of the Trinidadian-born former Comintern activist George Padmore. Though based in London, both moved first to Trinidad, then in the 1950s to Ghana where George Padmore was adviser to Nkrumah, a role which Dorothy assumed after his death in 1959. The file contains copies of their correspondence.
Geraldine Clara Marguerite Hurley Beresford, alias Leahy, alias Young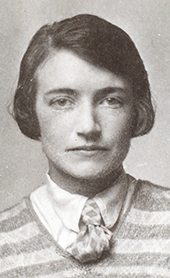 A leading member of the Friends of the Chinese People group until 1938, Beresford was previously married to Commander Edgar Young (KV2/3348-3353, released in 2010). She later renounced Communism and in 1939 offered her services to MI5 but was deemed 'an undesirable candidate for any kind of confidential work'.
By the early 1940s, she had divorced Young and married Frank Hurley-Beresford, who was also known to the Security Service, prompting one official to write: 'If she goes on marrying and divorcing people with files she will be splitting every PF [Personal File] in the office'. Beresford's allegiance moved from communism to Nazi Germany. After the war her violently anti-British views led her to offer her services to someone she thought was working towards a neo-Nazi Germany and to undertake any action that would damage Britain.
The files span KV 2/3842 to KV 2/3843.

Peter Neville Luard Pears
The Security Service opened a file on Peter Pears in 1951 when he accepted an appointment as Vice-President of the newly-formed Communist-dominated Musicians' Organisation for Peace. The file contains a Security assessment of Pears and the composer Benjamin Britten, another distinguished member of the Musicians Organisation for Peace and Pears' future partner.
The Security Service concluded that there was no evidence from other sources to suggest that Pears himself had Communist leanings. In 1961 the file was proposed for destruction but was retained for its correspondence about granting him US visas. An official wrote that Pears' motives for joining the Musicians Organisation for Peace and the League of Democracy for Greece 'may well have been entirely non-political but that fact remains that both these bodies are Communist front organisations'.
KV 2/3844 has been digitised.