Maps in The National Archives were used for central government purposes and only a small proportion have people's names on them. However, there are many maps of interest to family and local historians.
The Tithe Survey
The records of the Tithe Commission show where people were living in early Victorian times. The survey's maps are often the earliest large-scale mapping of towns and villages, before published Ordnance Survey maps were available. Related text documents can provide names of farm owners and occupiers, and details of crop acreage and field names.
See the research guide Tithes.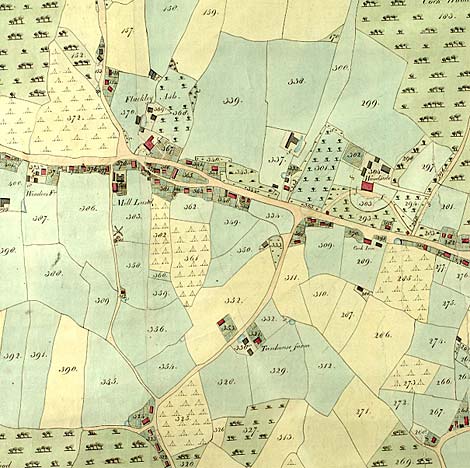 Part of the tithe map for Barnham in Sussex dated 1846.
The numbers refer to information about landowners and occupiers - Catalogue reference IR 30/35/20.
Valuation Office Survey
The Valuation Office record maps serve as the means of reference to more than 95,000 field books which contain descriptions of some nine million individual houses, farms and other properties.
See the research guide Valuation Office survey: land value and ownership 1910-1915.
National Farm Survey
The food emergency created by the Second World War led to the National Farm Survey. See the research guide National Farm Surveys of England and Wales, 1940-1943.
Enclosure maps
The enclosure movement of the 18th and early 19th centuries led to extensive redistribution of land, although enclosure did not take place everywhere. Some enclosure awards and maps are held by The National Archives and some by local record offices.
See the research guide Enclosure awards.
Ordnance Survey
The National Archives is not a place of deposit for successive editions of published Ordnance Survey mapping. If you want a specific sheet of a particular edition and scale, consult the appropriate local studies library or the British Library or one of the other Legal Deposit Libraries.
The National Archives does hold records of the Ordnance Survey itself, documenting its work. As well as producing maps, the Ordnance Survey was from 1841 responsible for the Public Boundary Archive for Great Britain. This shows each change to a public boundary (county, parish, parliamentary and local government boundaries).
See our research guide Ordnance Survey.
Other sources
In addition to these sources you can search the online Catalogue.
See the published catalogue Maps and Plans in the Public Record Office, Volume 1, British Isles c1410-1860, (HMSO, London, 1967) and the book Maps for Family and Local History: The Records of the Tithe, Valuation Office, and National Farm Surveys of England and Wales, 1836-1943, (second edition, Geraldine Beech and Rose Mitchell, The National Archives, 2004).