The National Archives has one of the world's richest holdings of historical mapping. There are believed to be more than six million maps and plans, with more added every year.
Ranging from the 14th century to the modern day, most date from the 17th to the 20th centuries. The British Isles and places all round the globe are represented.
The National Archives is not, however, the best place to start your search for:
Published series mapping such as Ordnance Survey maps or sea charts
Maps and plans of particular places in England and Wales. It is best to start with local sources, for example local record offices or reference libraries. Find contact details for UK archives using Find an archive.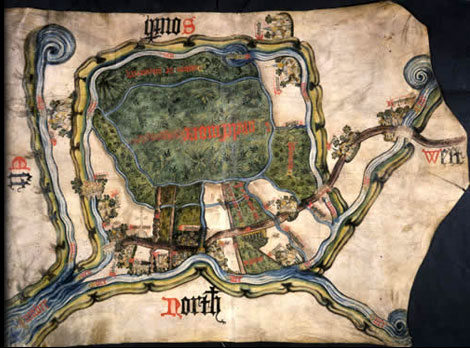 Maps in The National Archives
Maps show for example fortifications and mines; pre-nationalisation railway and canal companies; Crown Estate; and maps deposited in legal cases heard in the higher law courts. In addition there are three major surveys:
the Tithe Survey of the 1840s
the Valuation Office Survey of around 1910
the National Farm Survey of the Second World War
Maps of places overseas were created or used for foreign and colonial business. Many also reflect the planning and conduct of military, naval and air campaigns and operations.
Many of these maps are unique, either because they are original manuscript drawings or because they are printed items annotated in manuscript. An Admiralty chart, for example, may have been coloured to show the limits of fishing rights agreed in a treaty; an Ordnance Survey map may have been used to show where bombs dropped during the Second World War.
Many maps remain to be discovered. Please contact the catalogue helpdesk if you find a map or plan which does not appear to be in the catalogue.
Further information
For more detailed information see our research guide to maps.
For advice on how to search for maps see the Looking for a map guide.