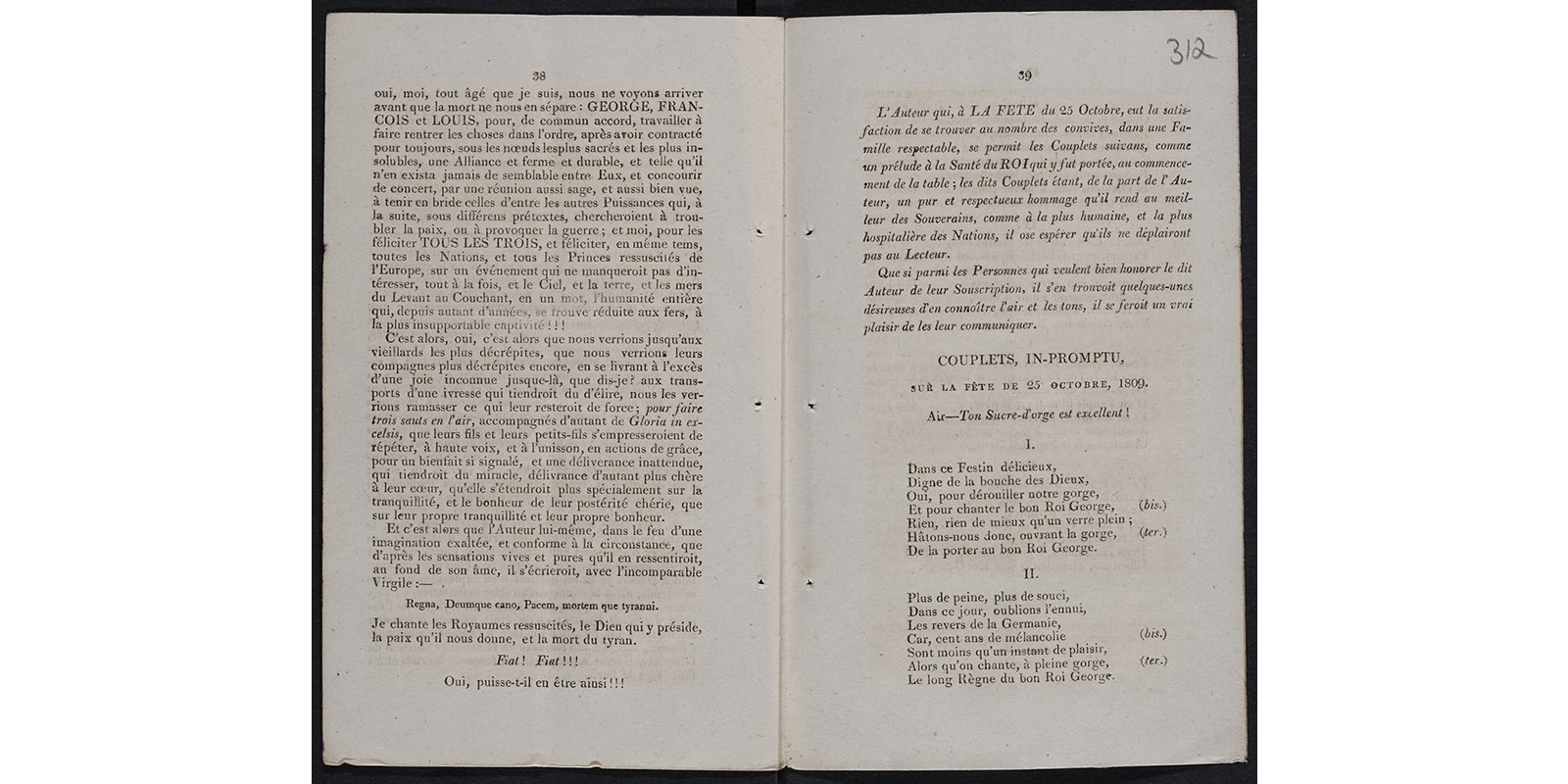 Printed pamphlet in French about George III's Jubilee, with 'impromptu couplets', 1809 (HO 42/105/56). George III was the first monarch to celebrate a Jubilee in much the same way as we do today.
You can download the full digitised document via Discovery, our online catalogue: Letters and papers
Transcription:
39
L'Auteur qui, à LA FETE du 25 Octobre, eut la satis-
faction de se trouver au nombre des convives, dans une Fa-
mille respectable, se permit les Couplets suivans, comme
un prélude à la Santé du ROI qui y fut portée, au commence-
ment de la table ; les dits Couplets étant, de la part de l' Au-
teur, un pur et respectueux hommage qu'il rend au meil-
leur des Souverains, comme à la plus humaine, et la plus
hospitalière des Nations, il ose espérer qu'ils ne déplairont
pas au Lecteur.
Que si parmi les Personnes qui veulent bien honorer le dit
Auteur de leur Souscription, il s'en trouvoit quelques-unes
désireuses d'en connoître l'air et les tons, il se feroit un vrai
plaisir de les leur communiquer.
COUPLETS, IN-PROMPTU,
SUR LA FÊTE DE 25 OCTOBRE, 1809.
Air—Ton Sucre-d'orge est excellent !
I.
Dans ce Festin délicieux,
Digne de la bouche des Dieux,
Oui, pour dérouiller notre gorge,
Et pour chanter le bon Roi George, (bis.)
Rien, rien de mieux qu'un verre plein ;
Hâtons-nous donc, ouvrant la gorge, (ter.)
De la porter au bon Roi George.
II.
Plus de peine, plus de souci,
Dans ce jour, oublions l'ennui,
Les revers de la Germanie,
Car, cent ans de mélancolie (bis.)
Sont moins qu'un instant de plaisir,
Alors qu'on chante, à pleine gorge, (ter.)
Le long Règne du bon Roi George.
__________
39
The Author who, at THE CELEBRATION of 25 October, had the satis-
faction of finding himself amongst the number of guests, in a
respectable Family, permitted himself the following Couplets, as
a prelude to the Health of the KING which was proposed there, at the begin-
ning of the meal ; the said Couplets being, on the part of the Au-
thor, a pure and respectful tribute which he renders unto the
best of Sovereigns, as to the most humane, and the most
hospitable of Nations, he dares to hope that they will not be displeasing
to the Reader.
Whom if among the Persons who truly wish to honour the said
Author with their Subscription, he should find any thereof
desirous to be acquainted with the tune and the intonations, it would be for him a true
pleasure to impart them to them.
COUPLETS, IMPROMPTU,
UPON THE CELEBRATION OF 25 OCTOBER, 1809.
Tune—Your Barley Sugar is excellent !
I.
During this delicious Feast,
Worthy of the mouth of Gods,
Aye, to loosen our throats,
And for singing good King George, (twice)
Naught better than a brimming glass ;
So hasten we, opening our throats, (three times)
To offer it to good King George.
II.
No more pain, no more worry,
On this day, let's forget discontent,
The setbacks of Germany,
For, a hundred years of melancholy (twice)
Are less than a moment of pleasure,
And so we sing, at the top of our lungs, (three times)
The long Reign of good King George.
[continues in 'George III's Jubilee (2)]
Return to Historic monarchs – document highlights