Student and work placements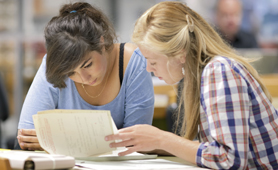 We offer a limited number of unpaid work placements, in archives and collection care.
Any PhD opportunities or other studentships we are advertising will also appear on this page.
See our bursaries page for information on funding opportunities for learning.
Student placement scheme
The National Archives' student placement scheme is designed for students undertaking a degree or qualification in either higher or further education that includes a compulsory placement.
This scheme offers students the opportunity to apply their existing skills and knowledge to research-based projects, while developing new expertise in an organisation that straddles the government and cultural sectors. With placement projects ranging from one to three months, students will be mentored by a designated supervisor throughout their time at The National Archives and equipped with a structured learning and development plan that allows students to track their progress.
We welcome applications from students with the drive and ambition to make a contribution to the varied and exciting work being undertaken here. To apply for the scheme, students must be:
18 and over
studying at a UK further or higher education institution for a qualification with a compulsory placement component
This scheme runs twice a year:
Cycle 1 runs from March to May
Cycle 2 runs from June to August
We are now recruiting for Cycle 2 of 2015 for placements beginning in June.
Legal Editor
The Legislation Services team is looking for students with an excellent eye for detail and an interest in how the law works to join their growing band of 'expert participants' - people who work alongside our internal editorial team to help revise or update legislation on
legislation.gov.uk
.
Millions of people depend on the free access to legislation.gov.uk to find the legislation they need to do their jobs or defend their rights. The contribution made by the student during their placement will make a huge difference to citizens' access to law.
Students will learn how legislation works in government and will make a tangible and measurable contribution to a key business objective - that primary legislation on legislation.gov.uk is up-to-date by the end of 2015. They will receive a certificate when training is completed, and will be able to point to the legislation on legislation.gov.uk that they've helped to update or register. There is also the potential for students to continue volunteering with us to work towards becoming a fully-fledged National Archives' accredited legislation editor.
To find out more about the project and the role, download the placement specification below.
For more information about the scheme and the eligibility criteria, please contact research@nationalarchives.gov.uk.

Legal Editor (PDF, 0.10MB)
Webinar Developer
The Advice and Records Knowledge department are seeking a student who can combine their interest in technology with a flair for audience and data research as a Webinar Developer.
The National Archives is in the process of developing a series of webinars as part of our new What's On programme of public events and exhibitions. This is in line with our business priority to expand and diversify our audiences.
To date, Advice and Records Knowledge have delivered a short series of subject-related webinars and are currently trialling new software through a number of webinars including topics such as the First World War and help using our online catalogue.
In order to develop and deliver webinars successfully, the process would benefit from a project to investigate:
webinar programmes offered by other institutions
how our current and potential new audiences could best benefit from what we offer
recommendations for best practice in terms of audience groups, aims, structure, delivery and gathering feedback
To find out more about the project and the role, download the placement specification below.
For more information about the scheme and the eligibility criteria, please contact research@nationalarchives.gov.uk.
Webinar developer (PDF, 0.03MB)
Security checks
Please note that all placement students invited to work at The National Archives will be subject to a full security clearance check before they can start work. The process may take up to eight weeks to complete.
Where becoming a volunteer or a placement students requires behind the scenes access, this is granted at The National Archives' discretion.
This page contains PDF files. See plug-ins and file formats for help in accessing these file types.