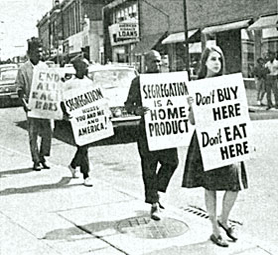 Anti-segragationists stage a protest, 1960 (FO 371/174336)
Students start the session by discussing a mystery document related to civil rights in America. A chronological exercise helps them to establish the context of the document.
The main part of the session will allow students to work with original Foreign Office documents, focusing on three key events of the period; Little Rock, the Birmingham protests and the urban riots including Watts and Detroit.
The content of the session aims to be relevant to students studying American Civil Rights under any of the exam boards, and focuses on the historical skills of enquiry and change and continuity.
Session options
This session can be delivered as a
Workshop