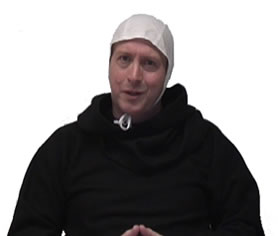 A costumed interpreter as Domesday commissioner Canon Robert
This role-playing workshop brings back to life one of the most important and famous documents in history and the events behind its creation.
Students will be given roles to play; they will be either an Anglo Saxon villager from the manor of Mortlake in Surrey, or one of the places associated with it, or they will be a Norman commissioner, sent by William the Conqueror to find out information for the Domesday Survey. Professional actors who play the parts of Rannulf, the reeve of the manor of Mortlake, and Canon Robert de Belleme, chief commissioner, will lead the students through the workshop.
The background to the role-play is that the commissioners who first visited Mortlake appear to have found some mistakes in the amount of tax due to King William. The second group of commissioners have been sent, led by Canon Robert, to try and find out where the mistake was made and who was responsible for it. Rannulf will help the villagers get through the inquiry and hopefully not suffer too much at the hands of the greedy Norman conquerors!
The workshop will end with an opportunity to see the original Domesday Book on display in The National Archives' museum and learn more about this amazing document's own history.
"I enjoyed acting out different parts because I learnt more by doing something…I found it fun because Canon Robert made the scene really tense and it was quite scary!"
Year 7 pupil.
Session options
This session can be delivered as a
Workshop
Videoconference