Read the 'Seafarers Stories' graphic novel here.
Our graphic novel project 'Seafarers' Stories' ran online from Monday 2nd – Friday 6th August with a group of five young people (age 16-19 years).
Working with acclaimed illustrator Serena Katt the group learned how to create a graphic story.
The content of the graphic novel was based directly on archival documents which tell the story of seafarers from Mirpur, Bengal and the Panjab, who travelled to Britain working on merchant ships in the 1920s-30s. These seafarers faced major challenges on board ships, and were forced to prove their status as British after migration legislation passed in 1925.
The young people worked with the Education team and Rozina Visram, pioneering historian of the Asian presence in Britain, to understand and interpret the records.  They explored themes of identity, journeys and racial discrimination by scripting and illustrating their interpretations of the seafarers' records.
The project also led to the creation of an online teaching resource.
Taking part in this project enabled the young people to:
Research the historical context of the period using original documents about seafarers from Mirpur, Bengal and the Panjab
Develop a greater understanding about the history of migration to Britain in the early 20th century
To work with two professionals (Serena and Rozina) to plan, script and illustrate a graphic novel
Connect and work creatively with like-minded young people despite the challenges of the pandemic and working remotely
Take part in a unique project that combines historical stories from our records and creativity
Produce a professional-looking published piece of work which could form part of an artistic portfolio for applying to art schools.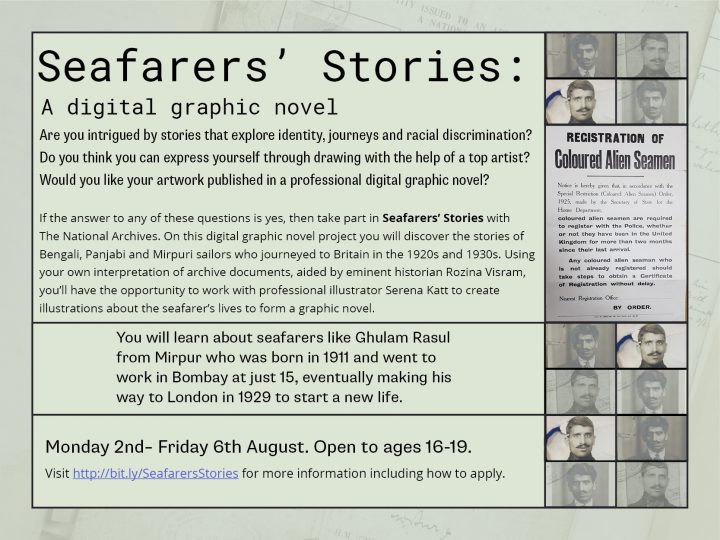 Read the graphic novel