Are you intrigued by stories that explore identity, journeys and racial discrimination? 
Do you think you can express yourself through drawing with the help of a top artist? 
Would you like your artwork published in a professional digital graphic novel? 
If the answer to any of these questions is yes, then take part in 'Seafarer's Stories' with The National Archives.  It is a digital graphic novel project for 16-19 year olds where you will discover the stories of Bengali, Panjabi and Mirpuri sailors who journeyed to Britain in the 1920s and 1930s as subjects of the British Empire.  Using your own interpretation of archive documents, you'll create illustrations about their lives to form a graphic novel. 
You will explore fascinating original documents with the help of document experts and Rozina Visram, pioneering historian of the Asian presence in Britain.  
You will then have the opportunity to work with acclaimed professional illustrator Serena Katt, who will guide you through illustration techniques and help you create your pages of the graphic novel.  
You will learn about sailors such as Ghulam Rasul from Mirpur, Paku Miah from Bengal and Sarwar Khan from the Panjab.  These seafarers faced major challenges on board ships, and were forced to prove their status as British after migration legislation passed in 1925.  Help us think about their lives on the ships and in Britain, as well as their families left behind. 
This project is FREE, and all materials will be provided for you. It will take place entirely online over Zoom from Monday 2nd– Friday 6th August. There will also be a welcome session on Wednesday 26th July.  You will need to be available to connect with us every day for the whole project week. 
If you'd like to take part in Seafarer's Stories, please email youngpeople@nationalarchives.gov.uk with 100 words about yourself and why you'd like to take part by Monday 12 July.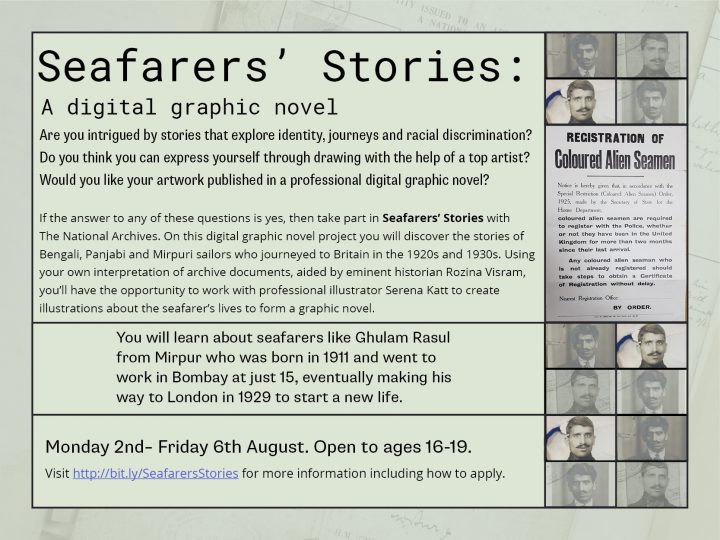 Apply now