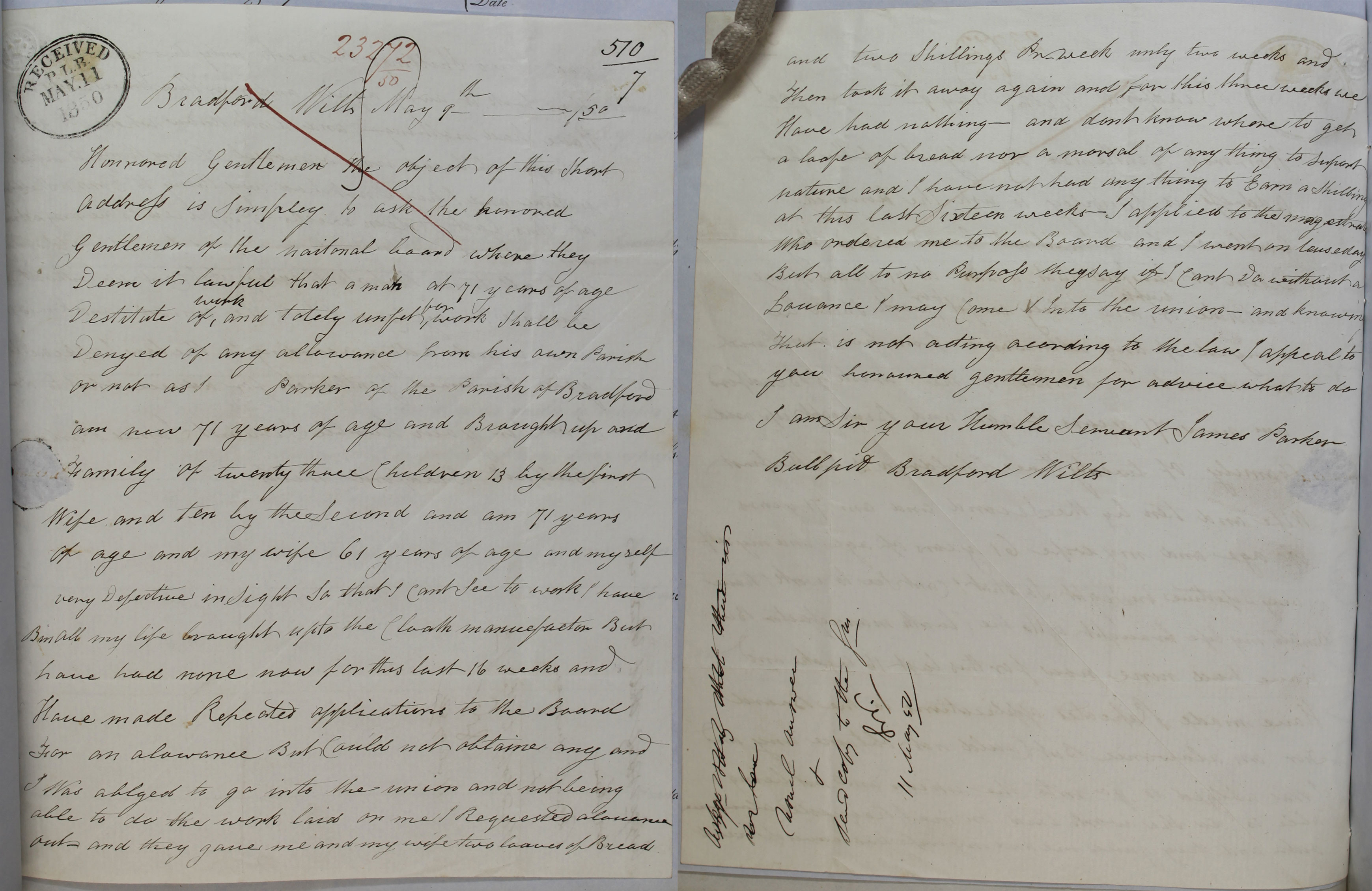 Letter from a poor man, wanting an allowance to avoid being sent to the workhouse, 9 May 1850, Catalogue ref:  MH12/13672.
Poor Law Union: Bradford on Avon
Union counties: Wiltshire and Somerset
Transcript
Honoured Gentlemen, the object of this short address is simply to ask the honoured gentlemen of the national board [whether] they deem it lawful that a man at 71 years of age, destitute of work and lately unfit for work shall be denied of any allowance from his own parish or not, as I, [James] Parker of the Parish of Bradford am now 71 years of age and brought up a family of twenty-three children.  Thirteen by the first wife and ten by the second and I am 71 years of age and my wife 61 years of age and myself very defective in sight so that I can't see to work. I have been all my life brought up [as] a cloth manufacturer, but have had [no money] now for the last 16 weeks and have made repeated applications to the Board for an allowance but could not obtain any. I was obliged to go into the union and not being able to do the work. I requested [an] allowance [outdoor relief from the parish]. They gave me and my wife two loaves of bread and two shillings a week for only two weeks and then took it away again. For these three weeks we have had nothing- and don't know where to get a loaf of bread nor a morsel of anything … and I have not had anything to earn a shilling this last sixteen weeks – I applied to the magistrate who ordered me to the Board and I went on Tuesday but all to no purpose. They say if I can't do without [an allowance] I may come into the union. And knowing that is not acting according to the law, I appeal to you honoured gentlemen for advice what to do.
I am Sir your Humble Servant
James Parker
Bullpit Bradford, Wiltshire.
Return to Workhouse Voices