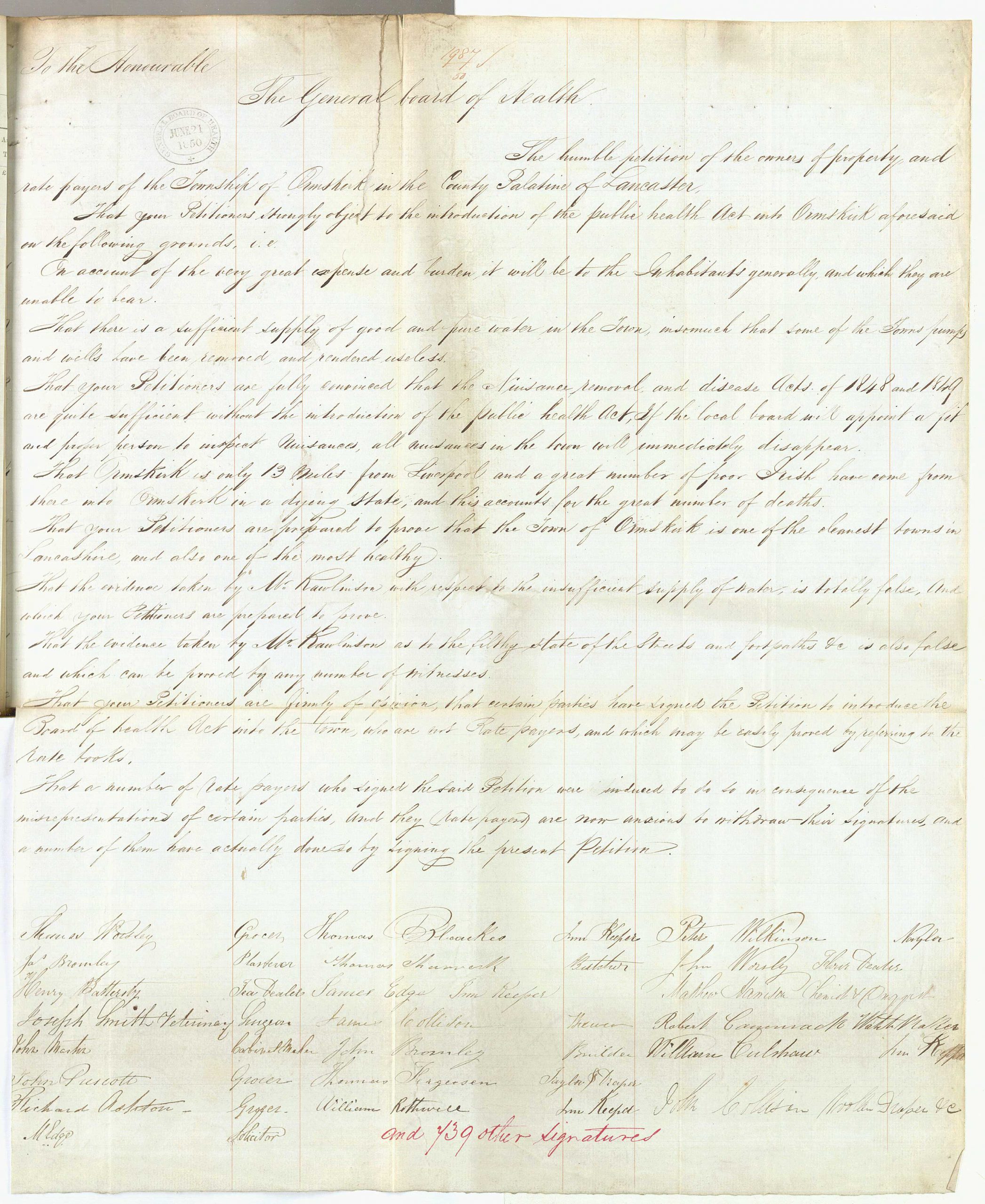 A petition sent from people in Ormskirk, Lancashire to the General Board of Health against setting up a local board of health, 21 June, 1850. Catalogue ref: MH 13/138.
Transcript
To the honourable The General board of Health
The humble petition of the owners of property and ratepayers of the Township
Ormskirk in the county Palatine of Lancaster.
That your petitioners strongly object to the introduction of the Public Health Act
into Ormskirk aforesaid in the following grounds, i.e. On account of the very great expense and burden it will be to the inhabitants generally and which they are unable to bear.
That there is a sufficient supply of good and pure water in the town, in so much that some of the town's pumps and wells have been removed and rendered useless.
That your petitioners are fully convinced that the Nuisance removal and disease Acts of 1848 and 1849 are quite sufficient without the addition of the Public Health Act. If the local board will appoint a fit and proper person to inspect Nuisances, all nuisances in the town will immediately disappear.
That Ormskirk is only 13 miles from Liverpool and a great number of poor Irish
have come from there to Ormskirk in a dying state, and this accounts for a great number of deaths.
That your petitioners are prepared to prove that the town of Ormskirk is
one of the cleanest towns in Lancashire and also one of the most healthy.
That the evidence taken by Mr Rawlinson with respect to the insufficient supply of water, is totally false, and which you petitioners are prepared to prove. That the evidence taken by Mr Rawlinson as to filthy state of streets and footpaths etc. is also false and can be proved by any number of witnesses.
That the petitioners are firmly of the opinion that certain parties have signed a
petition to introduce the board of health act into the town who are not ratepayers and which may be easily proved by referring to the rate books. That a number of ratepayers who signed the petition were induced to do so in consequence of the misrepresentations of certain parties and they (ratepayers) are now anxious to withdraw their signatures, and a number of them have actually done so by signing the present petition.
Thomas Worsley,  Grocer
Jas Bromley,  Plaster
Henry Battersby, Tea Dealer
Joseph Smith,  Veterinary Surgeon
John Martin,  Cabinet Maker
John Prescott, Grocer
Richard Ashton,  Grocer
M Edge, Solicitor
Thomas Bleackes,  Inn keeper
Thomas Sharrock,  Butcher
James Edge,  Inn keeper
James Collisor,  Brewer
John Bromley,  Builder
Thomas Fergueson,  Tailor and draper
William Rothwell,  Inn keeper
Peter Wilkinson,  Naylor
John Worsby,  Flower dealer
Matthew Hamson,  Chemist and Druggist
Robert Connaught,  Watch Maker
William Culshaw,  Inn keeper
John Collison Woolens,  Draper etc  and 739 other signatures
Return to Victorian Industrial Towns