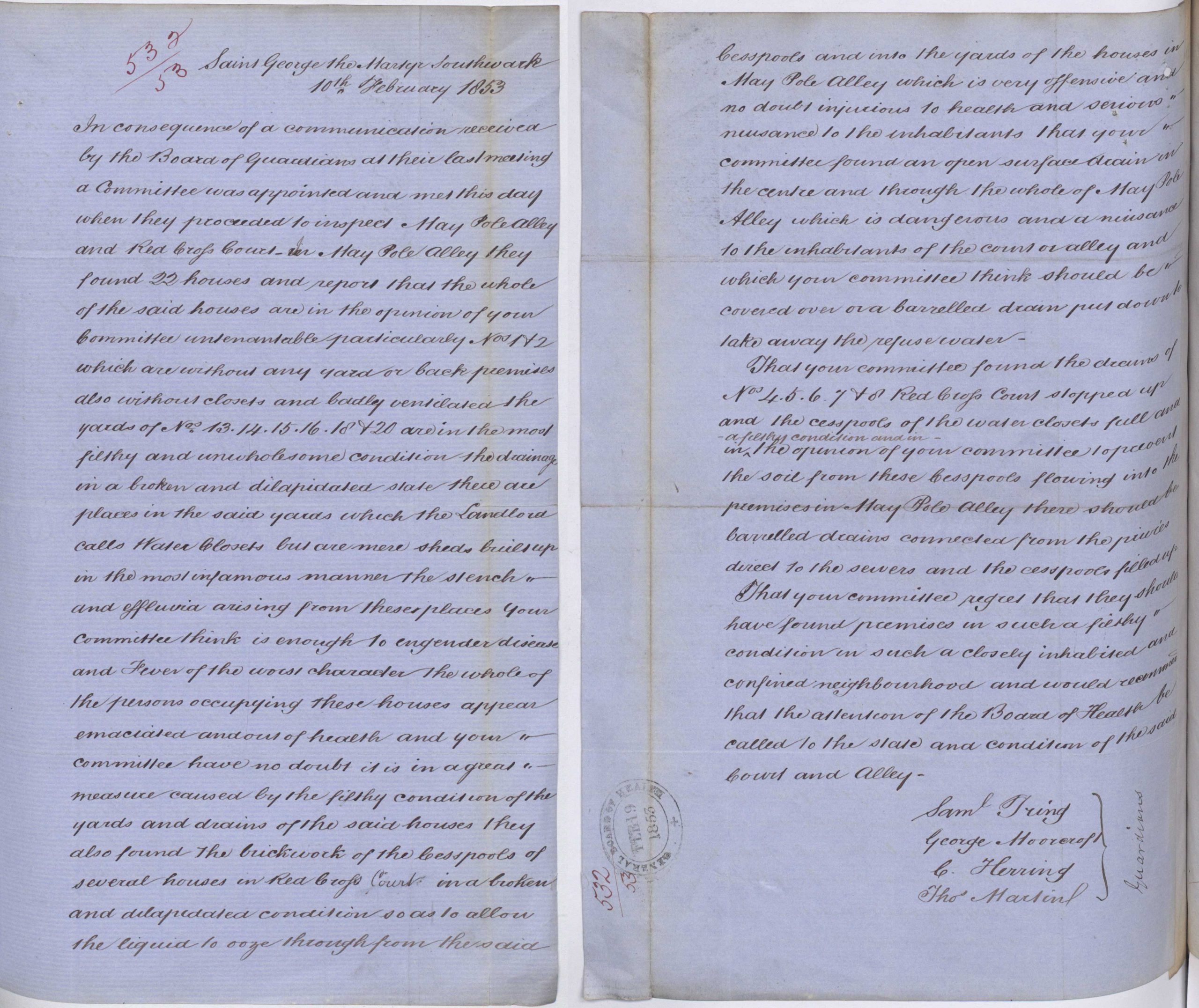 Extract from a report sent to the General Board of Health initiated by the Board of Guardians concerning housing in Red Cross Alley and May Pole Alley, Parish of St George the Martyr in Southwark, London, 17 February 1855, Catalogue ref: MH 13/261.
Transcript
Saint George the Martyr, Southwark
10th February 1853
In consequence of a communication received by the Board of Guardians at their last meeting, a committee was appointed, and met this day when they proceeded to inspect May Pole Alley and Red Cross Court. In May Pole Alley they found 22 houses and report that the whole of the said houses are in the opinion of your committee un-tenantable, particularly Nos. 1 & 2 which are without any yard or back premises, also without closets and badly ventilated. The yards of Nos. 13, 14, 15, 16, 18 & 20 are in the most filthy and unwholesome condition, the drainage in a broken and dilapidated state, there are places in the said yards which the landlords call water closets, but these are mere sheds built up in the most infamous manner. The stench and effluvia [foul smell] arising from these places, your committee think is enough to engender disease and fever of the worst character, the whole of the persons occupying these houses appear emaciated [thin] and out of health and your committee have no doubt it is in a great measure caused by the filthy condition of the yards and drains of the said houses.
They also found the brickwork of the cesspools of several houses in Red Cross Court in a broken and dilapidated condition so as to allow the liquid to ooze through from the said cesspools and into the yards of the houses in May Pole Alley which is very offensive and no doubts injurious to health and serious nuisance to the inhabitants, that your committee found an open surface drain in the centre and through the whole of May Pole Alley which is dangerous and a nuisance to the inhabitants of the court or alley and which your committee think should be covered over or a barrelled drain put down to take away the refuse water.
That your committee found the drains of Nos. 4.5.6.7 & 8 Red Cross Court stopped up and the cesspools of the water closets full and in a filthy condition and in the opinion of your committee to prevent the soil from these cesspools flowing into the premises in May Pole Alley there should be barrelled drains connected from the privies direct to the sewers and the cesspools filled up.
That you committee regret that they should have found premises in such a filthy condition in such a closely inhabited and confined neighbourhood and would recommend that the attention of the Board of Health be called to the state and condition of the said court and alley.
Samuel Tring          )
George Moorcroft  )    Guardians
C. Herring                )
Thomas Martin       )
Return to Victorian Industrial Towns