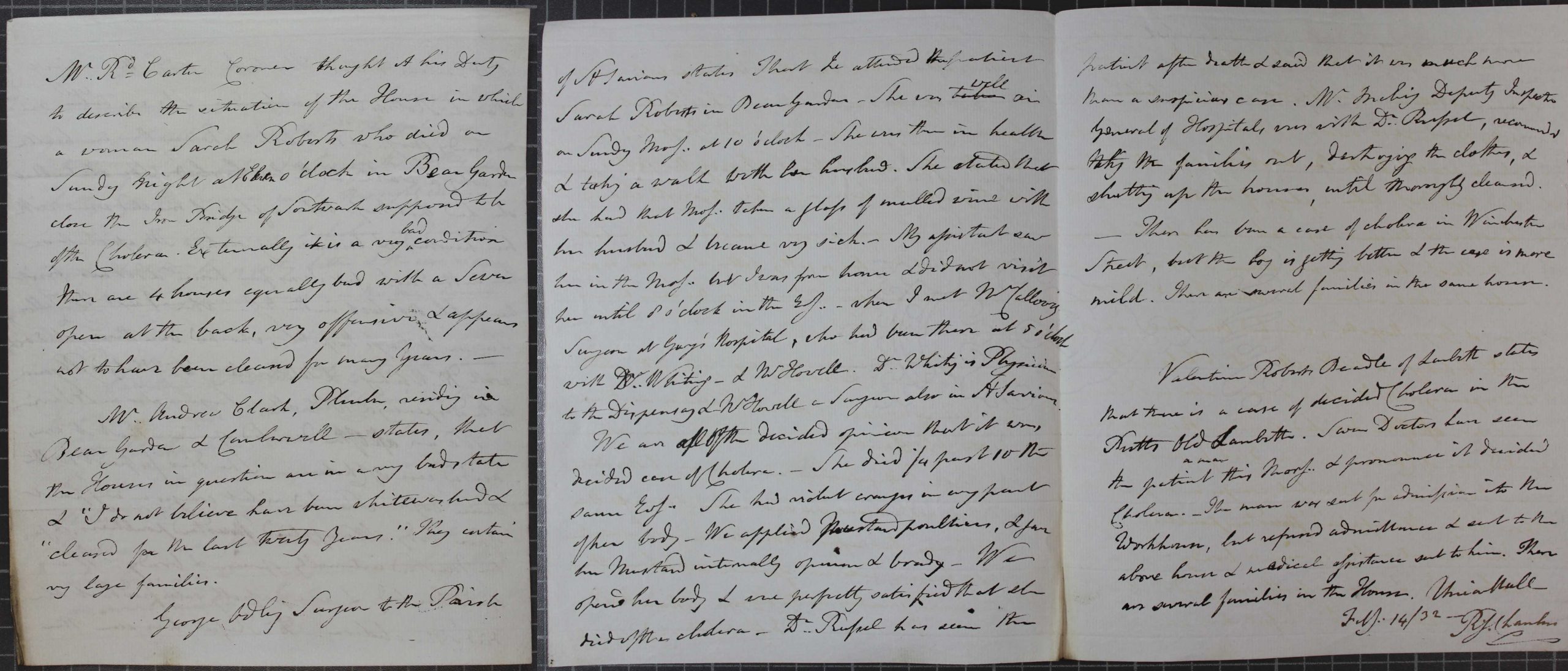 An example of a cholera case which came before the coroner in Southwark and was reported to the Board of Health. It linked poor housing to the disease, 14 February 1832, Catalogue ref: PC 1/114.
Transcript
Mr Richard Carter, Coroner thought it his duty to describe the situation of the House in which a woman Sarah Roberts who died on Sunday Night at Eleven o'clock in Bear Gardens close from Iron Bridge of Southwark supposed to be of the Cholera. Externally it is a very bad condition, there are four houses, equally bad with a sewer open at the back, very offensive and appears not to have been cleaned for many years.
Mr. Andrew Clark, plumber residing in Bear Gardens & Camberwell-states that the houses in question are in a very bad state and "I do not believe have been whitewashed and cleaned for the last twenty years". They contain large families.
George Bedly Surgeon to the Parish of St. Saviours' states that he attended the patient Sarah Roberts in Bear Gardens, She was well on Sunday morning. At 10 o' clock she was then in health and taking a walk with her husband. She stated that she had that morning taken a glass of mulled wine with her husband and became very sick. My assistant saw her in the morning but I was from home and did not visit her until 8'o clock in the evening. When I met Mr Mallory, Surgeon at Guy's hospital, who had been there at 5 o' clock with Dr Whiting and Mr Howell. Dr Whiting is Physician to the Dispensary & Mr Howell is Surgeon also in St. Saviour's.
We are all of the decided opinion that it was decided case of Cholera. She died ¼ past 10 the same evening. She had violent cramps in every part of her body. We applied mustard poultices [mustard paste spread on cloth] and gave her mustard internally opium and brandy. We opened her body and were perfectly satisfied that she died of the cholera. Dr Russel has seen the patient after death and said that it was much more than a suspicious case. Mr Miling Deputy Inspector General of Hospitals was with Dr Russel recommended taking the families out, destroying the clothes and shutting up the houses until thoroughly cleansed.
There has been a case of cholera in Winchester Street, but the boy is getting better and the case is [milder]. There are several families in the same house.
Valentine Roberts, Beadle [parish official] of Lambeth states that there is a case of decided Cholera in the Butts Old Lambeth. Seven Doctors have seen the patient, a man this morning and pronounce it decided cholera. The man was sent for admission into the Workhouse, but refused admittance and sent to the above house and medical assistance sent to him. There are several families in the house…
February 14 1832 R.J. Chambers
Return to Victorian Industrial Towns