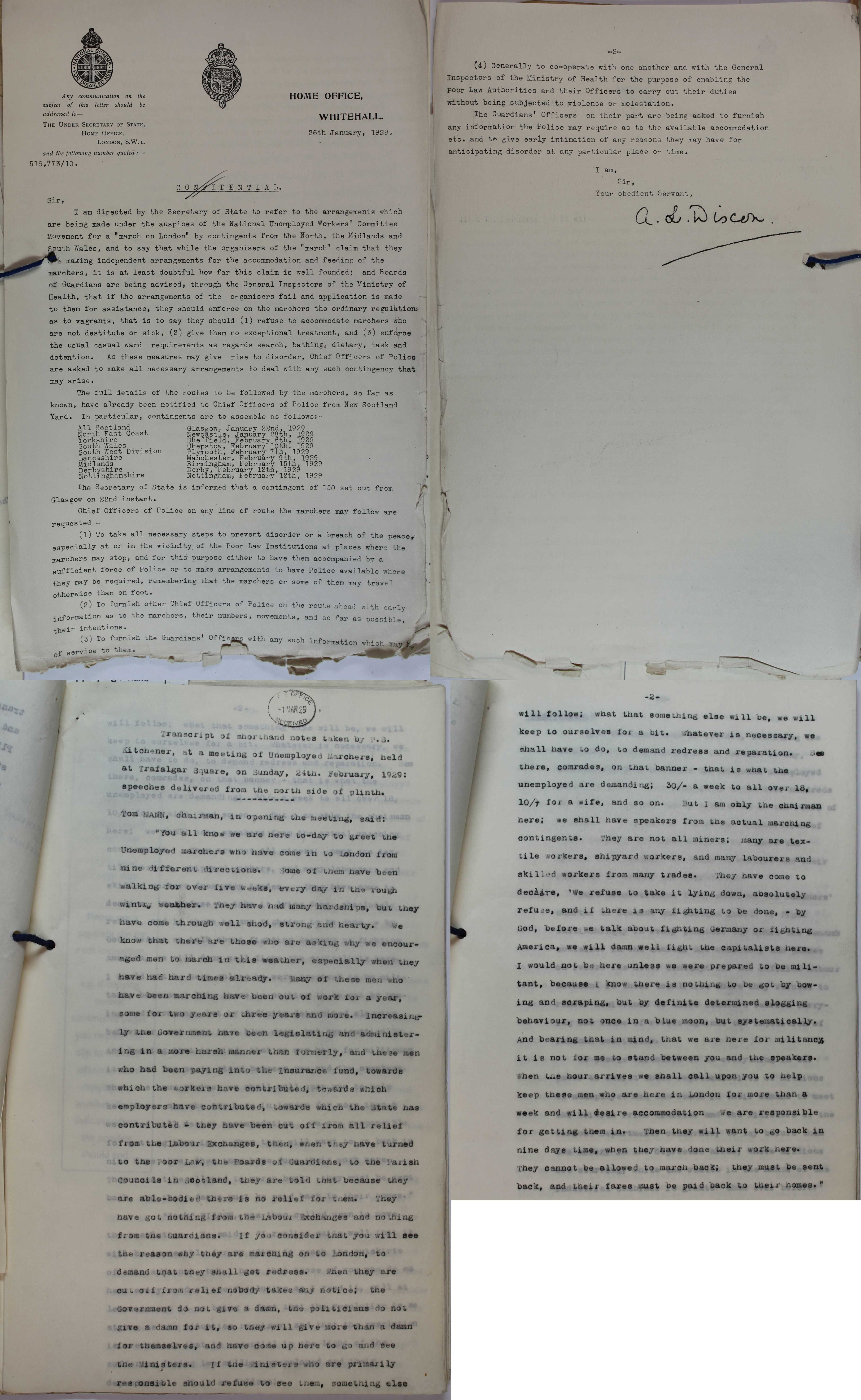 Letter from Home Office, 26th January, 1929 about London Hunger March by the National Unemployed Worker's Committee Movement (Catalogue ref: HO 144/12143)
Transcript
…
Sir
I am directed by the Secretary of State to refer to the arrangements which are being made under the auspices of the National Unemployment Workers' Committee Movement for a 'march on London' by contingent from the North, the midlands and South Wales, and to say that while the organisers of the "march" claim that they are making independent arrangements for the accommodation and feeding of the marchers, it is at least doubtful how far this claim is well founded; and Boards of Guardians are being advised, through the General Inspectors of the Ministry of Health, that if the arrangements of the organisers fail and application is made to them for assistance, they should enforce on the marchers the ordinary regulations as to vagrants, that is to say they should (1) refuse to accommodate marchers who are not destitute or sick (2) give them no exceptional treatment, and (3) enforce the usual casual ward requirements as regards search, bathing, dietary, task and detention. As these measures may give rise to disorder, Chief Officers of Police are asked to make all the necessary arrangements to deal with any such contingency that may arise.
The full details of the routes to be followed by the marchers, so far as know, have already been notified to Chief Officers of Police from New Scotland Yard. In particular, contingents are to assemble as follows-:
All Scotland                 Glasgow, January 22nd, 1929
North East Coast         Newcastle, January 28th, 1929
Yorkshire                     Sheffield, February 6th, 1929
South Wales                 Chepstow, February 10th, 1929
South West Division     Plymouth, February 7th, 1929
Lancashire                    Manchester, February 9th, 1929
Midlands                       Birmingham, February 7th, 1929
Derbyshire                    Derby, February 12th, 1929
Nottinghamshire           Nottingham, February 12th, 1929
The Secretary of State is informed that a contingent of 150 set out from Glasgow on 22nd instant. Chief Officers of Police on any line of the route the marchers may follow are requested-:
O take all the necessary steps to prevent disorder or a breach of the peace, especially at or in the vicinity of the Poor Law institutions at places where the marchers may stop, and for this purpose either to have these accompanied by a sufficient force of Police or to make arrangements to have Police available where they may be required, remembering that the marchers or some of them may travel otherwise than on foot.
To furnish other Chief Police Officers on the route ahead with early information as to the marchers, their numbers, movements, and so far as possible, their intentions.
To furnish the Guardians Officers with any such information which may be of service to them.
Generally to co-operate with another and with the General Inspectors of the Ministry of Health for the purpose of enabling the Poor Law Authorities and their Officers to carry out their duties without being subjected to violence or molestation.
The Guardians' Officers on their part are being asked to furnish any information the Police may require as to the available accommodation etc. and to give eary intimation of any reasons they may have for anticipating disorder at any particular place or time.
I am Sir,
Your, obedient Servant,
A.L. Dixon
---
Notes taken by police at a meeting of unemployed marchers, 24th February, 1929: (Catalogue ref: HO 144/12143)
Transcript
Transcript of shorthand notes taken by P.S. Kitchener, at a meeting of Unemployed Marchers, held at Trafalgar Square, on Sunday, 24th February, 1929: speeches delivered from the North side of plinth.
Tom MANN, chairman, in opening the meeting, said:
"You all know we are here today to greet the Unemployed marchers who have come into London from nine different directions. Some of them have been walking for over five weeks, every day in the rough wintry weather. They have had many hardships, but they have come through well shod, strong and hearty. We know that there are those who are asking why we encourage men to march in this weather, especially when they have had hard times already. Many of these men who have been marching have been out of work for a year, some for two years or three years and more. Increasingly the government have been legislating and administering in a more harsh manner that formerly, and these men who has been paying into the insurance fund, towards which the workers have contributed, towards which employers have contributed, towards which the State has contributed- they have been cut off from all relief from the Labour Exchanges, then, when they have turned to the Poor Law, the Boards of Guardians, to the Parish Councils in Scotland, they are told that because they are able-bodied there is no relief for them. They have got nothing from the Labour Exchanges and nothing from the Guardians. If you consider that you will see the reason why they are marching on to London, to demand that they shall get redress. When they are cut off from relief nobody takes any notice; the Government do not give a damn, the politicians do not give a damn for it, so they will give more than a damn for themselves, and have come up here to do and see the Ministers. If the Ministers who are primarily responsible should refuse to see them, something else
-2-
will follow: what something else will be, we will keep to ourselves for a bit. Whatever is necessary, we shall have to do, to demand redress and reparation. See there, comrades, on that banner-that is what the employed are demanding: 30/- [shillings] a week to all over 18, 10/- [shillings] for a wife and so on. But I am only the chairman here: we shall have speakers from the actual marching contingents. They are not all miners; many are textile workers, shipyards workers, and many labourers and skilled workers from many trades.  They have come to declare, 'We refuse to take it lying down, absolutely refuse, and if there is any fighting to be done, – by God, before we talk about fighting Germany or fighting America, we will damn well fight the capitalists here. I would not be here unless we were prepared to be militant, because I know there is nothing to go by bowing and scraping, but by definite determined slogging behaviour, not once in blue moon, but systematically. And bearing that in mind, that we are here for militancy, it is not for me to stand between you and the speakers. When the hour arrives we shall all upon you to help keep these men who are in London for more than a week and will desire accommodation. We are responsible for getting them in. Then they will want to go back in nine days' time when they have done their work here. They cannot be allowed to march back; they must be sent back, and their fares must be paid back to their homes".
Return to Twenties Britain (part one)