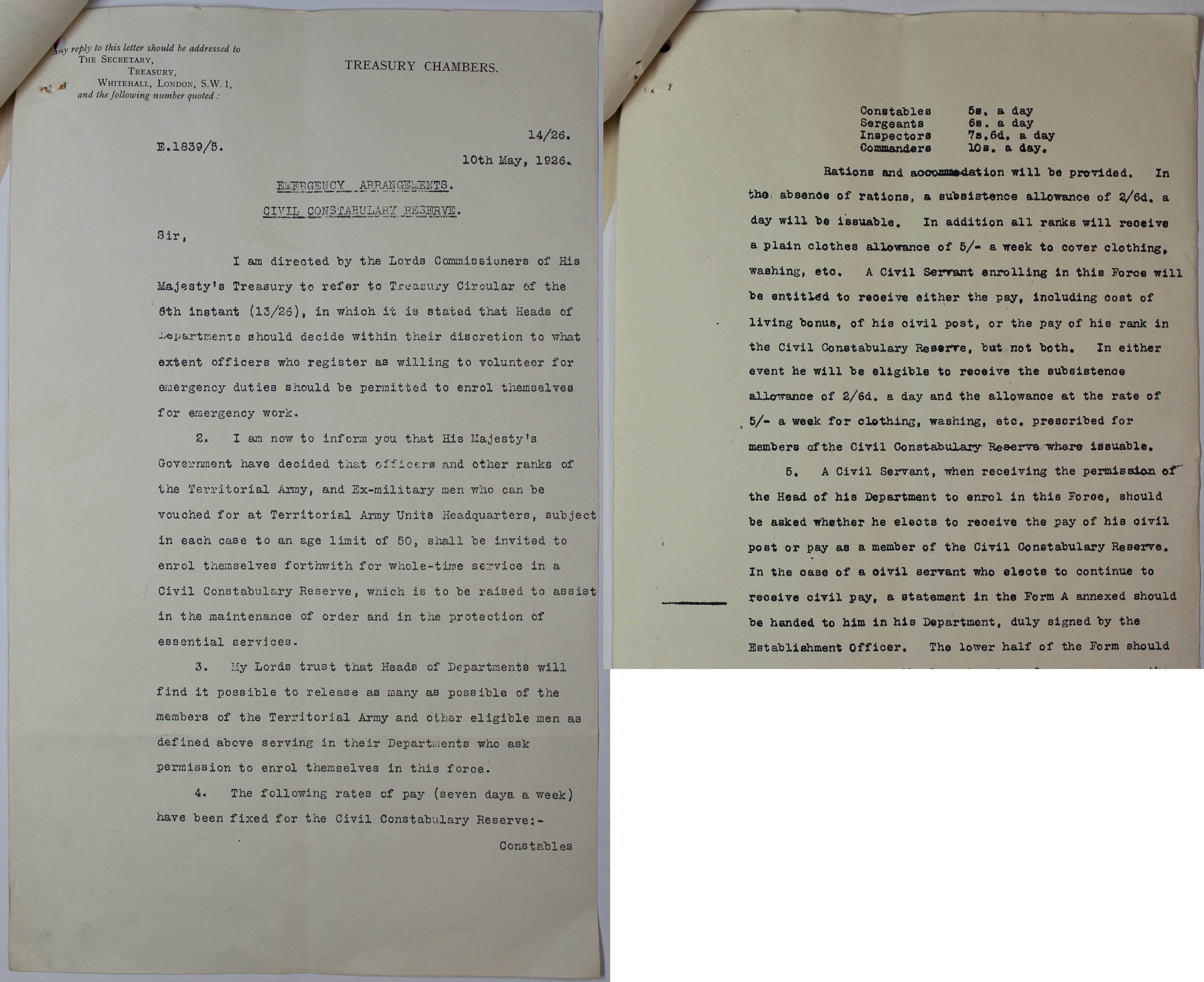 Emergency arrangements for Civil Constabulary Reserve during the General Strike, 10 May, 1926 (Catalogue ref: J 86/37)
Transcript
TREASURY CHAMBERS
Any reply to this letter should be addressed to
The Secretary
Treasury
Whitehall,
London
S.W.1
And the following reference quote
E.1839/5                                                                                                14/26
10th May, 1926.
EMERGENCY ARRANGEMENTS
CIVIL CONSTABULARY RESERVE
Sir,
I am directed by the Lords Commissioners of His Majesty's Treasury to refer to Treasury circular of the 6th instant (13/26), in which it is stated that Heads of Departments should decide within their discretion to what extent officers who register as willing to volunteer for emergency duties should be permitted to enrol themselves for emergency work.
I am now to inform you that His Majesty's Government have decided that officers and other ranks of the Territorial Army, and Ex-military men who can be vouched for at Territorial Army Units Headquarters, subject in each case to an age limit of 50, shall be invited to enrol themselves forthwith for whole-time service in a Civil Constabulary Reserve, which is to be raised to assist in the maintenance of order and in the protection of essential services.
My Lords trust that Heads of Department will find it possible to release as many as possible of the members of the Territorial Army and other eligible men as defined above serving in their departments who ask permission to enrol themselves in this force.
The following rates of pay (seven days a week) have been fixed for the Civil Constabulary Reserve-:
Constables           5s. a day
Sergeants             6s. a day
Inspectors             7s. 6d a day
Commanders        10s. a day
Rations and accommodation will be provided. In the absence of rations, a subsistence allowance of 2/6d a day will be issuable. In addition all ranks will receive a plain clothes allowance of 5/- a week to cover clothing, washing etc. A civil servant enrolling in this Force will be entitled to receive either the pay, including the cost of living bonus, of his civil post, or the pay of his rank in the Civil Constabulary Reserve, but not both. In either event he will be eligible to receive the subsistence allowance of 2/6d a day and the allowance at the rate of 5/- a week for clothing, washing, etc. prescribed for members of the Civil Constabulary Reserve where issuable.
A Civil Servant, when receiving the permission of the Head of his Department to enrol in this force, should be asked whether he elects to receive the pay of his civil service post or pay as a member of the Civil Constabulary Reserve. In the case of a civil servant who elects to continue to receive civil pay, a statement in the Form A annexed should be handed to him in his Department, duly signed by the Establishment Officer…
Return to Twenties Britain (part one)