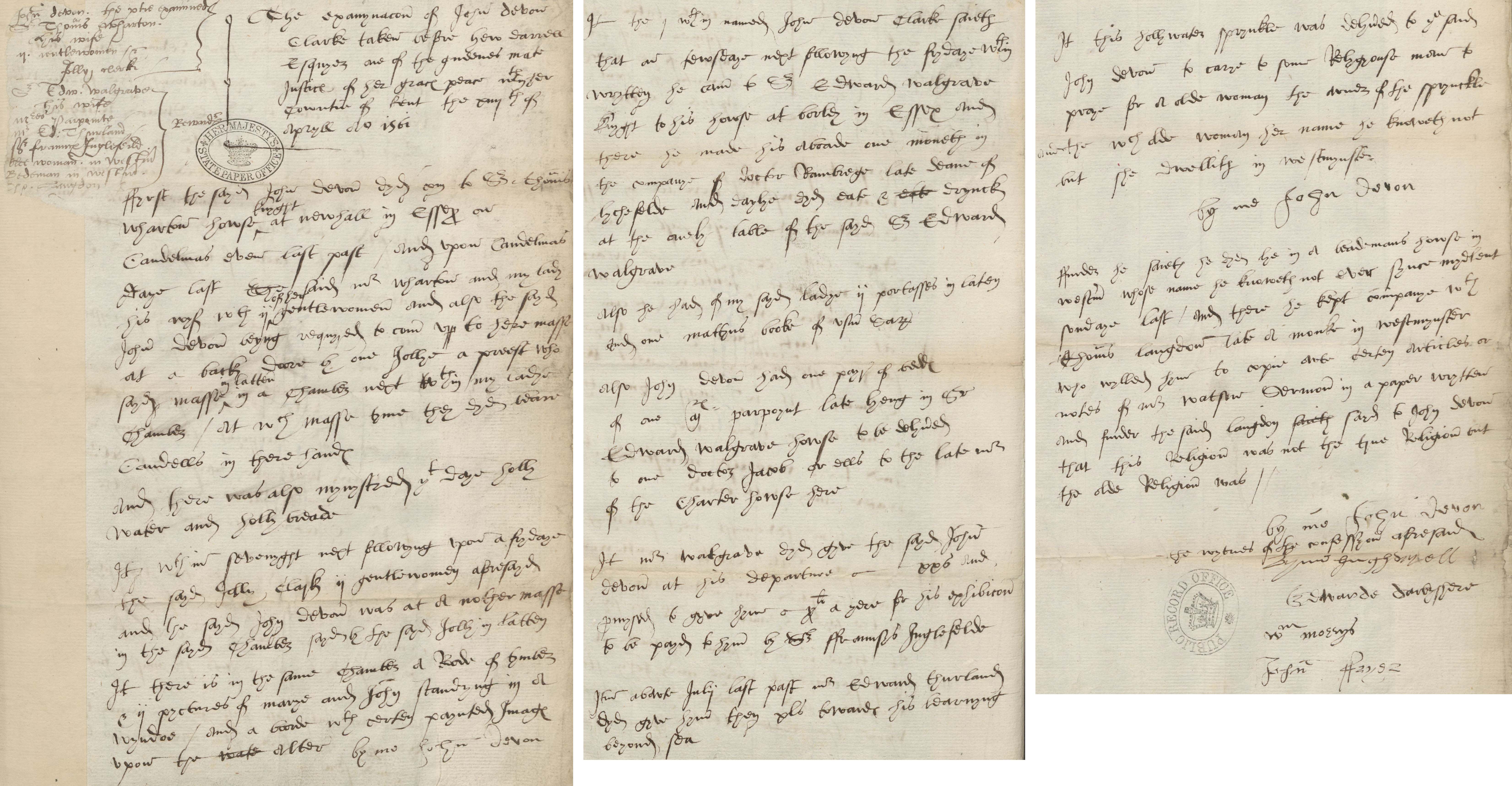 The examination of John Devon, 14 April 1561 (SP12/16/49I, f.117r-118r)
This is early Elizabethan example of an examination of a suspected Catholic.
Transcript
The examination of John Devon Clarke taken before Hugh Darrell Esquire one of the Queen's majesty's Justices of her grace's peace within her County of Kent the 14th of April 1561[1]
First, the said John Devon, did come to Sir Thomas Wharton house, knight at Newhall in Essex at Candlemas evening last past, and upon Candlemas day last, the said Mr Wharton and my lady, his wife with two of her gentlewomen and also the said John Devon being required to come up to hear mass at a back door by one Jollye, a priest who said mass in Latin in a Chamber next within my lady's Chamber. At which mass time they did [held] candles in their hands
And there was also ministered that day holy water and holy bread
Item: within seven nights next, following upon a Friday the said Jolly Clark, two gentlewomen aforesaid and the said John Devon was at another mass in the said Chamber said by the said Jolly in Latin
Item: there is in the same chamber a rood [crucifix] of timber & two pictures of Mary and John standing in a window and a board with certain painted images upon the <mate> Altar
By me John Devon[2]
[f.117v]
Item the 1[first point] within named John Devon Clark said that on Tuesday next following the Friday within written, he came to Sir Edward Walgrave,  knight to his house at borley [Burley] in Essex and there he made his abode there one month in the company of doctor Rambrege [Ramridge] late dean of Lichfield. And daily did eat & drink at the only table of the said Sir Edward Walgrave
Also he had of my said lady, two portasses in Latin and one matins book of usum Sarum.[3]
Also John Devon had one pair of beddes [rosary beads] of one master Parpoynt late being in Sir Edward Walgrave house to be delivered to one doctor Jacob or else to be late master of the Charter house here.
Item: Mr Walgrave did give the said John Devon at his departure 20 shillings and promised to give him ten pounds a year for his exhibition [scholarship] to be paid to him by Sir Francis Inglefied
Item: about July last past Mr Edward Thurland did give him then 40 shillings towards his learning beyond sea
[f.118r]
Item:  this holy water sprinkle [An aspergillum, a rattle-like device with holes used to sprinkle holy water] was delivered to the said John Devon to carry to some religious men to pray for an old woman the [unclear] of the spynckle [sprinkle].  And the which old woman her name he knows not, but she dwells in Westminster
By me John Devon
Further he said he did lie in a beadsman's [a person who is paid to pray for the soul of another] house in Westminster whose name he knows not, ever since mid-lent Sunday last. And there he kept company with Thomas Langdon late, a monk in Westminster who willed him to copy out certain articles or notes of Mr Watson sermon in a paper written and further the said Langdon said to John Devon that this Religion was not the true Religion but the old Religion was.
By me John Devon
The witness of the confession aforesaid [names of four witnesses]
[1] In the margin alongside this is a list of people mentioned in the examination: John Devon, the party examined / Sir Thomas Wharton / his wife / ii gentlewomen / jolly clerk.  The following were marked 'Rewardes': Sir Edward Walgrave / his wife / Mistress Papointe / Mr Ed: Thurland / Sir Fraunces Inglefield / Old woman in Westminster / Bedesman [a person who is paid to pray for the soul of another] in Westminster / Langdon
[2] i.e. he has signed that he agrees with the statement on this page.  This occurs regularly throughout the document.
[3] Two porteouses (a book containing all the daily psalms, hymns, prayers, lessons, etc., necessary for reciting the office), a copy of the Sarum Use (or rite, the most popular liturgical form in pre-Reformation England) and a book of matins.
Return to English Reformation c1527-1590