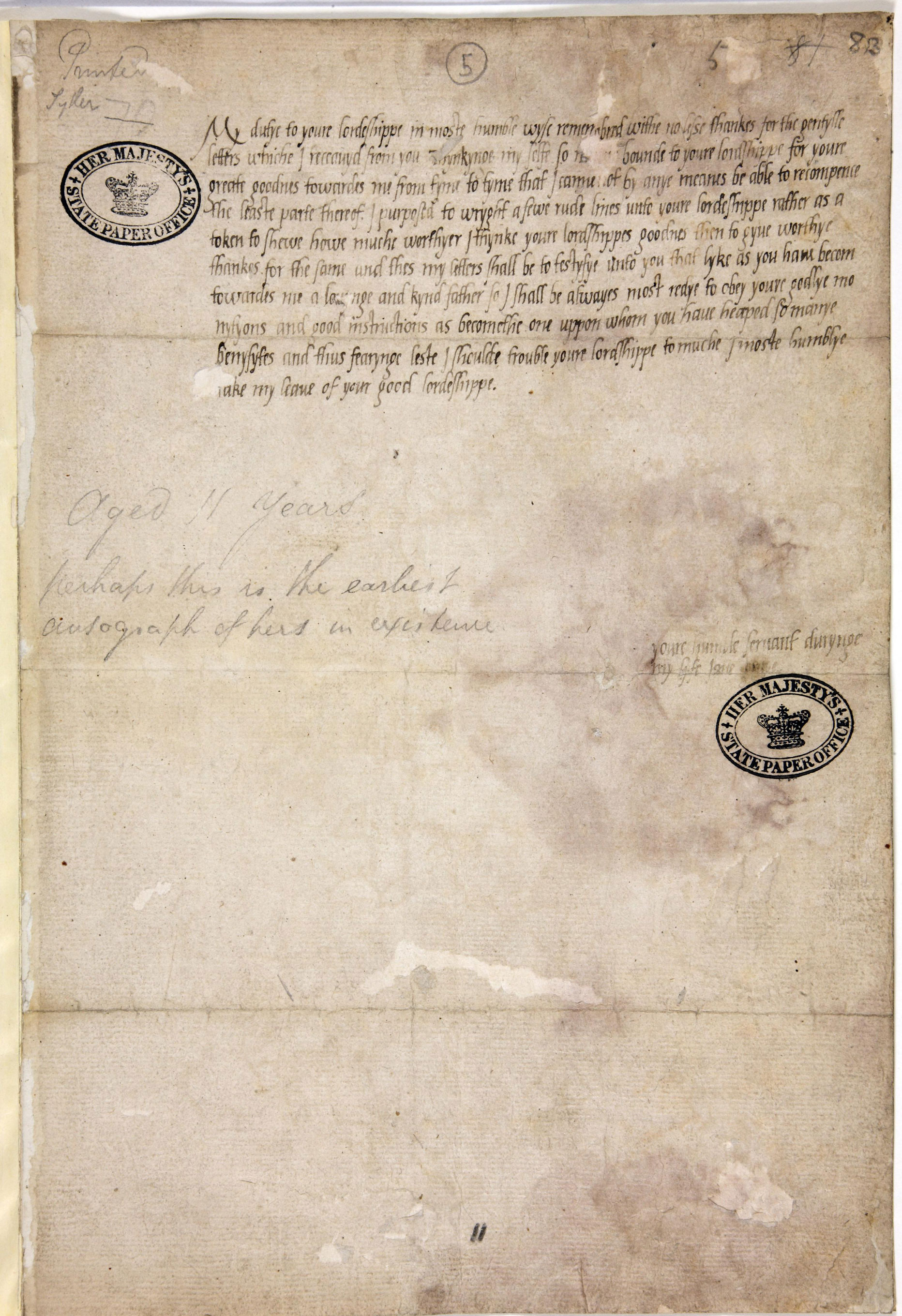 This is a letter from Lady Jane Grey to her guardian, Thomas, Baron Seymour of Sudeley thanking him for his kindness to her. The document has been annotated with the words; 'Aged 11 years, perhaps this is the earliest autograph of hers in existence', 1548. (Catalogue ref: EXT 9/42/2)
Lady Jane Grey, is often passed over in history as the Queen who reigned for nine days. Edward VI named her his successor in an attempt to prevent the succession of either of his declared illegitimate sisters, the Catholic Mary Tudor or protestant Elizabeth.  Mary Tudor however managed to secure the throne and Lady Jane was executed in 1554 for treason. Jane had spent some her childhood in the household of Katherine Parr who had married Thomas Seymour and remained there after Katherine's death.
Transcript
My dutye to youre lordeshippe in most humble wyse rememberd withe no lisse thankes for the gentylle letters which I receavyed from you Thynkynge my selfe so muche bounde to your lordshippe for youre greate goodnes towardes me from tyme to tyme that I cannenot by anye meanes be able to recompence the least parte thereof: I purposed to wryght a few rude lines unto youre lordshippe rather as a token to shewe howe muche worthyer I thynke youre lordshippes goodnes then to gyve worthye thankes for the same thes my letters shall be to testyfe unto you that lyke as you have becom towardes me a louynge and kynd father so I shall be alwayes most redye to obey your momysons and good instructions as becomethe one uppon whom you have heaped so manye benyfytes. and thus fearynge leste I shoulde trouble youre lordshippe to muche I moste humblye take my leave of your good lordshyppe
your humble servant durynge
my life jane graye
Modernised transcript
My duty to your lordship is most humble wise remembered with no less thanks for the gentle letters which I received from you thanking myself so much bound to your lordship for your great goodness towards me from time to time that I cannot by any means be able to recompense the least parte thereof. I proposed to write a few rude lines unto your Lordship rather as a token to shrew how much worthier I think your lordship's goodness then to give worthy thanks for the same these, my letters shall be to testify unto you that like as you have become towards me a loving and kind father so I shall be always most ready to obey your motions and good instructions as become one upon whom you have heaped so many benefits and thus fearing less I should trouble your Lordship [too] much I most humbly take my leave of your good lordship.
Your humble servant during my life, Jane Grey
Simplified transcript
My lord I will never be able to repay you for your kindness and kind letters. I thought I would write a few simple words to show how I appreciate how good you have been. My letters are proof that you have been like a kind and loving father so I am always ready to do anything you say as you have given me so much. Out of fear that I may have bothered you, I will humbly finish here.
Your humble servant during my life, Jane Grey
Return to Significant People