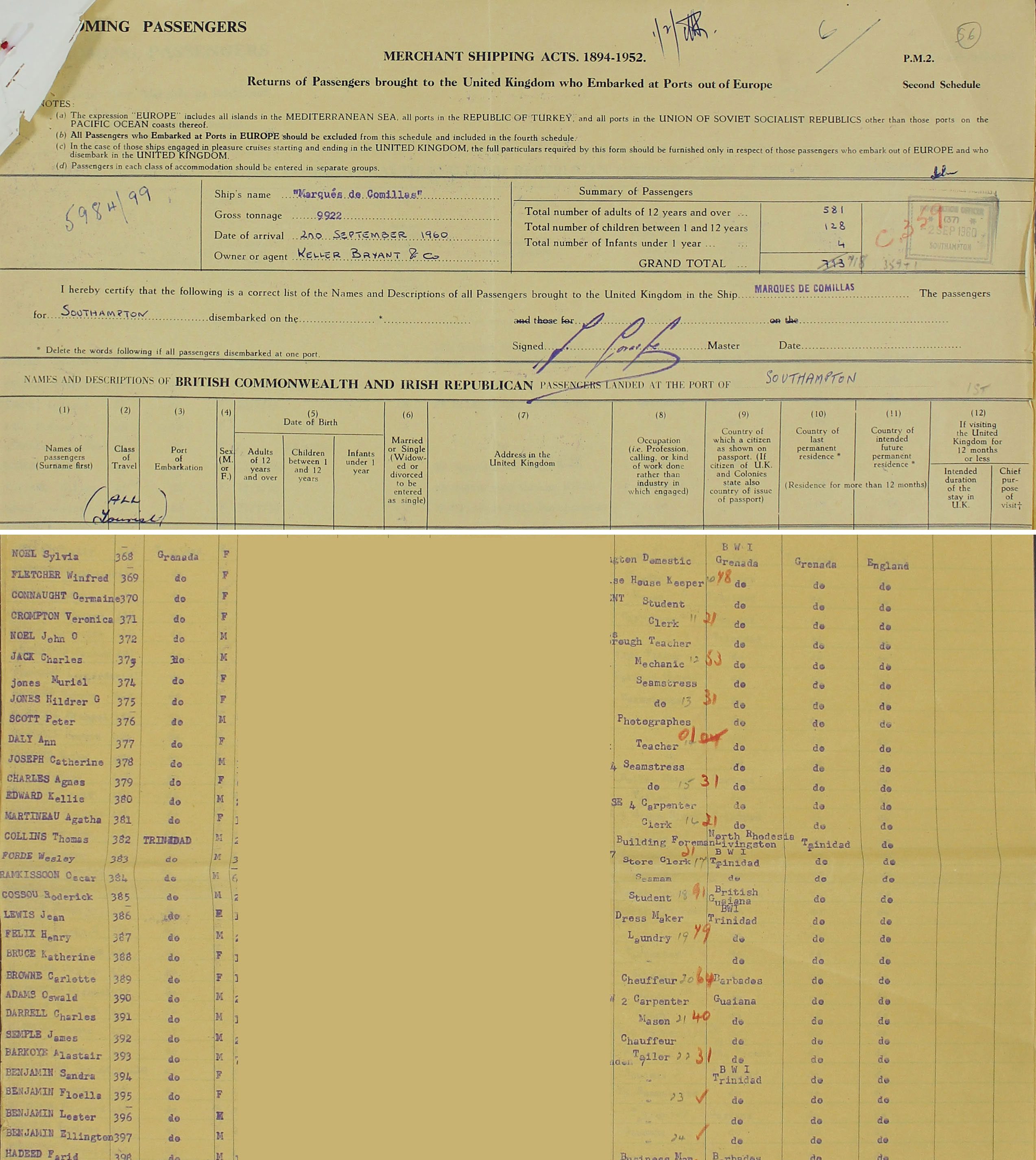 Extract from the Passenger List of MV 'Marques de Comillas' (Keller Bryant & Company) travelling from St Kitts to Southampton, September 1960 (includes arrival record of Floella Benjamin and siblings). (Catalogue ref:  BT 26/1460/56.)
Between 1948 and 1970 nearly half a million people left the West Indies to settle in Britain. The West Indies consists of more than 20 islands in the Caribbean, including Jamaica, Barbados and Trinidad and Guyana (located on the South American mainland). These people were all British citizens and they had the right to enter, work and live here. Many came because the British Government needed workers to run the transport system, postal service and hospitals. Others came for better opportunities, for work or to save money and return home.
Floella Benjamin was born in Trinidad, but was brought up in England from the age of 10. She has had a diverse career as an actress, presenter, writer, producer, business woman and media regulator. She was awarded an OBE in 2001 for her services to broadcasting and took her seat in the House of Lords as a Liberal Democrat Peer in 2010 as Baroness Benjamin of Beckenham in Kent. https://www.floellabenjamin.com/about-me/
[Please note that we have removed the addresses from the document and slightly modified the column headings of the form where the passengers are listed in the transcript.  The numbers written in red pencil on the document, and not included in the transcript, are codes for different occupations.]
Transcript
Merchant Shipping Acts, 1894-1952
Returns of Passengers brought to the United Kingdom who embarked at Ports out of Europe
NOTES
The expression " EUROPE" includes all islands in the MEDITERRANEAN SEA, all ports in the "REPUBLIC OF TURKEY" and all ports in the UNION OF SOVIET SOCIALIST REPUBLICS other than those ports on the PACIFIC OCEAN coasts thereof.
All Passengers who Embarked at Ports in EUROPE should be excluded from this schedule and included in the fourth schedule.
In the case of those ships engaged in pleasure cruises starting and ending in the UNITED KINGDOM, the full particulars required by this form should be furnished only in respect of those passengers who embark out of EUROPE and who disembark in the UNITED KINGDOM.
Passengers in each class of accommodation should be entered in separate groups.
5984/99
Ship's name:    "Marqués de Comillas"

Gross tonnage:  9922

Date of arrival:    2nd SEPTEMBER 1960

Owner or agent:   KELLER BRYANT & Co.

Summary of Passengers

Total number of adults of 12 years & over:  581

Total number of children 1-12 years:  128

Total number of Infants under 1 year:              4

GRAND TOTAL         713          718

I HEREBY CERTIFY THAT THE FOLOWING IS A CORRECT LIST OF THE Names and descriptions of all Passengers brought to the United Kingdom in the ship MARQUES DE COMILLAS. The passenger for SOUTHAMPTON disembarked on the * Delete the words following if all passengers disembarked at one port. [Signed]

NAMES AND DESCRIPTIONS OF BRITISH COMMONWEALTH AND IRISH REPUBLIC PASSENGERS LANDED AT THE PORT OF SOUTHAMPTON

(1)

Names: Surname first

(2)

Travel

Class

ALL tourist

(3)

Port

embarked

(4)

Male or female

(5)

Date of birth

Adults

Children

Infants

(6)

Married

Single

Widow

Divorced

(7)

Address in UK

(8)

Occupation

(9)

Country in passport & country of issue

(10)

Country of last

residence

(more than 1yr)

(11)

Country of future

residence

(more than 1yr)

(12)

If visiting UK for 12m.
(1)
(2)
(3)
(4)
(8)
(9)
 (10)
(11)
NOEL Sylvia
368
Grenada
F
Domestic
British West Indies

Grenada

Grenada
England
FLETCHER Winifred
369
do [ditto, as above]
F
House Keeper
do
do
do
CONNAUGHT

Germaine

370
do
F
Student
do
do
do
CROMPTON

Veronica

371
do
F
Clerk
do
do
do
NOEL

John O

372
do
M
Teacher
do
do
do
JACK

Charles

373
do
M
Mechanic
do
do
do
Jones  Muriel
374
do
F
Seamstress
do
do
do
JONES

Hildrer G

375
do
F
do
do
do
do
SCOTT Peter
376
do
M
[Photographer]
do
do
do
DALY Ann
377
do
F
Teacher
do
do
do
JOSEPH

Catherine

378
do
M [error]
Seamstress
do
do
do
CHARLES Agnes
379
do
F
do
do
do
do
EDWARD Kellie
380
do
M
Carpenter
do
do
do
MARTINEAU Agatha
381
do
F
Clerk
do
do
do
COLLINS Thomas
382
TRINIDAD
M
Building Foreman
North Rhodesia, Livingston
Trinidad
do
FORDE Wesley
383
do
M
Store Clerk
B.W.I. Trinidad
do
do
RAMKISSOON Oscar
384
do
M
Seaman
do
do
do
COSSOU

Roderick

385
do
M
Student
British Guaiana

[Guyana]

do
do
LEWIS Jean
386
do
F
Dress maker
BWI Trinidad
do
do
FELIX Henry
387
do
M
Laundry
do
do
do
BRUCE Katherine
388
do
F
      "
do
do
do
BROWNE Carlotte
389
do
F
Chauffeur
Barbados
do
do

ADAMS Oswald

390
do
M
Carpenter
Guaiana
do
do
DARRELL Charles
391
do
M
Mason
do
do
do
SEMPLE James
392
do
M
Chauffeur
do
do
do
BARKOYE Alastair
393
do
M
Tailor
do
do
do
BENJAMIN Sandra
394
do
F
BWI

Trinidad

do
do
BENJAMIN

Floella

395
do
F
do
do
do
BENJAMIN

Lester

396
do
M
do
do
do
BENJAMIN

Ellington

397
do
M
do
do
do
HADEEN Farid
398
do
M
Business man
Barbados
do
do
Return to Significant People