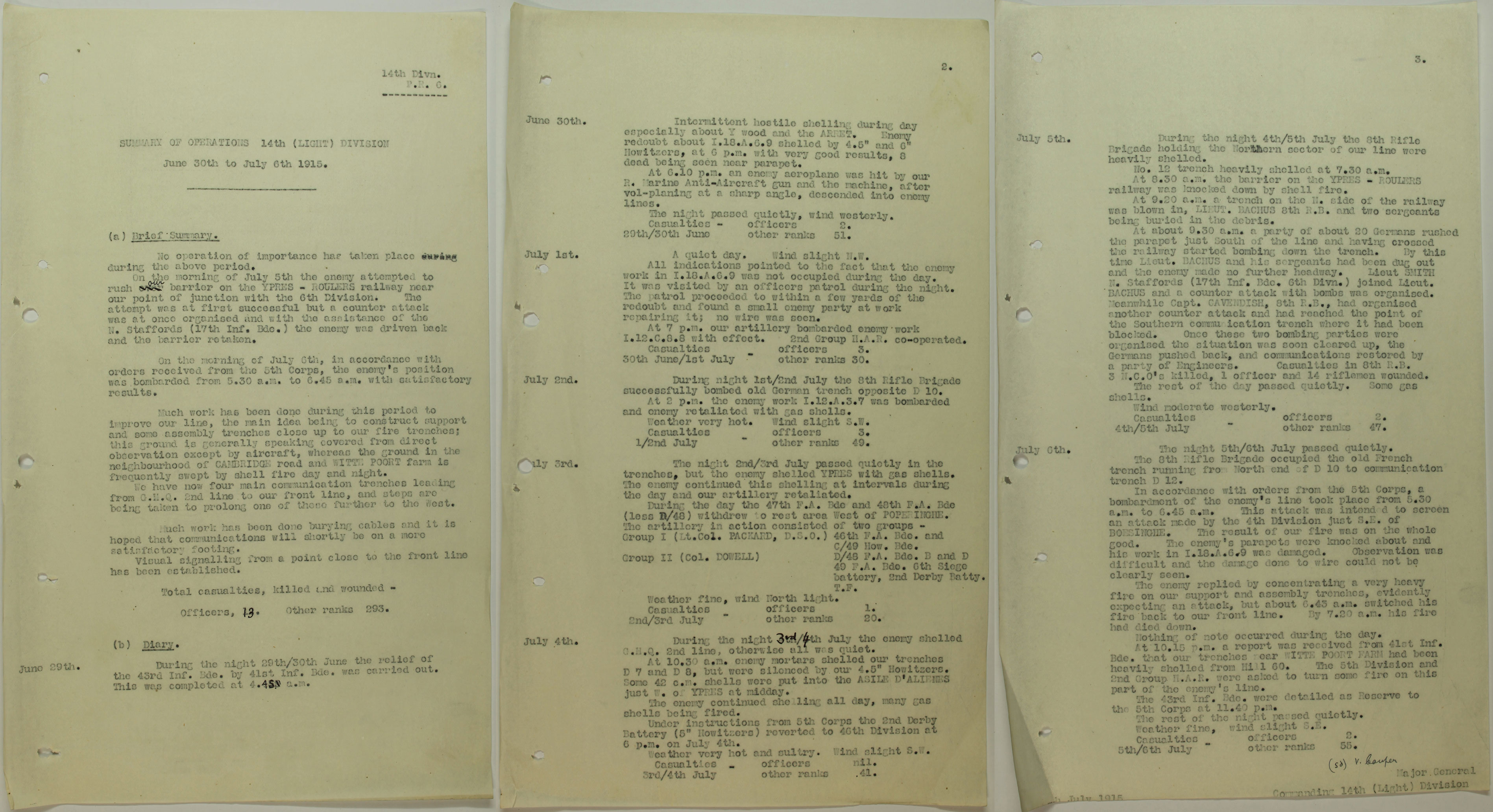 This war diary extract gives a lot of information about trench organisation, the nature of operations, munitions and casualties, (Catalogue ref: WO 95/1864)
Transcript
SUMMARY OF OPERATIONS 14th (LIGHT) DIVISION
June 30th to July 6th 1915.
a) Brief Summary.
No operation of importance has taken place during the above period.
On the morning of July 5th the enemy attempted to rush our barrier on the YPRES – ROULERS railway near our point of junction with the 6th Division. The attempt was at first successful but a counter attack was at once organised and with the assistance of the N. Staffords (17th Infantry Brigade) the enemy was driven back and the barrier retaken.
On the morning of July 6th, in accordance with orders received from the 5th Corps, the enemy's position was bombarded from 5.30am to 6.45am with satisfactory results.
Much work has been done during this period to improve our line, the main idea being to construct support and some assembly trenches close up to our fire trenches; this ground is generally speaking covered from direct observation except by aircraft, whereas the ground in the neighbourhood of CAMBRIDGE road and WITTE POORT farm is frequently swept by shell fire day and night.
We have now four main communication trenches leading from G.H.Q. 2nd line to our front line, and steps are being taken to prolong one of these further to the West.
Much work has been done burying cables and it is hoped that communications will shortly be on a more satisfactory footing.
Visual signalling from a point close to the front line has been established.
Total casualties, killed and wounded –
Officers, 13. Other ranks 293.
b) Diary
June 29th. During the night 29th/30th June the relief of the 43rd Infantry Brigade by 41st Infantry Brigade was carried out. This was completed at 4.45 am.
—————————————————————————————————————-
June 30th.
Intermittent hostile shelling during day especially about Y wood and the ARRET. Enemy redoubt about I.18.A.6.9 shelled by 4.5" and 6" Howitzers, at 6 p.m. with very good results, 8 dead being seen near parapet.
At 6.10 p.m. an enemy aeroplane was hit by our R. Marine Anti-Aircraft gun and the machine, after vol-planing [controlled dive] at a sharp angle, descended into enemy lines.
The night passed quietly, wind westerly.
Casualties –        officers 2.
29th/30th June     other ranks 51.
July 1st. A quiet day. Wind slight N.W.
All indications pointed to the fact that the enemy work in I.18.A.6.9 was not occupied during the day. It was visited by an officers' patrol during the night. The patrol proceeded to within a few yards of the redoubt and found a small enemy party at work repairing it; no wire was seen.
At 7p.m. our artillery bombarded enemy work I.12.C.8.8 with effect. 2nd Group H.A.R. co-operated.
Casualties –                     officers 3
30th June/1st July            other ranks 30.
July 2nd. During night 1st/2nd July the 8th Rifle Brigade successfully bombed old German trench opposite D 10. At 2p.m. the enemy work I.12.A.3.7 was bombarded and enemy retaliated with gas shells.
Weather very hot. Wind slight S.W.
Casualties –                     officers 3.
1/2nd July                         other ranks 49.
July 3rd. The night 2nd/3rd July passed quietly in the trenches, but the enemy shelled YPRES with gas shells. The enemy continued this shelling at intervals during the day and our artillery retaliated.
During the day the 47th F.A. Brigade and 48th F.A. [Field Artillery] Brigade (less D/48) withdrew to rest area West of POPERINGHE. The artillery in action consisted of two groups –
Group I (Lt. Col. PACKARD, D.S.O.) 46th F.A. Brigade and C/49 How. Brigade.
Group II (Col. DOWELL)           D/48 F.A. Brigade B and D 49 F.A. Brigade 6th Siege battery, 2nd Derby Battery. T.F.
Weather fine, wind north light.
Casualties –                     officers 1.
2nd/3rd July                      other ranks 20.
July 4th. During the night 3rd/4th July the enemy shelled G.H.Q. 2nd line, otherwise all   was quiet.
At 10.30 a.m. enemy mortars shelled our trenches D7 and D8, but were silenced by our 4.5" Howitzers. Some 42 c.m. shells were put into the ASILE D'ALIENES just west of YPRES at midday.
The enemy continued shelling all day, many gas shells being fired.
Under instructions from 5th Corps the 2nd Derby Battery (5" Howitzers) reverted to 46th Division at 6 p.m. on July 4th.
Weather very hot and sultry. Wind slight S.W.
Causalities –                    officers nil.
3rd/4th July                       other ranks 41.
————————————————————————————————————
July 5th. During the night 4th/5th July the 8th Rifle Brigade holding the Northern sector of our line were heavily shelled.
No. 12 trench heavily shelled at 7.30 a.m.
At 8.30 a.m. the barrier on the YPRES – ROULERS railway was knocked down by shell fire.
At 9.20 a.m. a trench on the North side of the railway was blown in, LIEUT. BACHUS 8th R.B. and two sergeants being buried in the debris.
At about 9.30a.m. a party of about 20 Germans rushed the parapet just South of the line and having crossed the railway started bombing down the trench. By this time Lieut. BACHUS and his sergeants had been dug out and the enemy made no further headway. Lieut. SMITH N. Staffords (17th Infantry Brigade 6th Division) joined Lieut. BACHUS and a counter attack with bombs was organised. Meanwhile Captain CAVENDISH, 8th R.B., had organised another counter attack and had reached the point of the Southern communication trench where it had been clocked. Once these two bombing parties were organised the situation was soon cleared up, the Germans pushed back, and communications restored by a party of Engineers. Casualties in 8th R.B. 3 N.C.O's killed, 1 officer and 14 riflemen wounded.
The rest of the day passed quietly. Some gas shells.
Wind moderate westerly.
Casualties –                     officers 2.
4th/5th July                        other ranks 47.
July 6th. The night 5th/6th July passed quietly. The 8th Rifle Brigade occupied the old French trench running from North end of D10 to communication trench D12.
In accordance with orders from the 5th Corps, a bombardment of the enemy's line took place from 5.30 a.m. to 6.45 a.m. This attack was intended to screen an attack made by the 4th Division just S.E. of DOESINGHE. The result of our fire was on the whole good. The enemy's parapets were knocked about and his work in I.18.A.6.9 was damaged. Observation was difficult and the damage done to wire could not be clearly seen.
The enemy replied by concentrating a very heavy fire on our support and assembly trenches, evidently expecting an attack, but about 6.43 a.m. switched his fire back to our front line. By 7.20 a.m. his fire had died down.
Nothing of note occurred during the day.
At 10.15 p.m. a report was received from 41st Infantry Brigade that our trenches near WITTE POORT FARM had been heavily shelled from Hill 60. The 5th Division and 2nd Group H.A.R. were asked to turn some fire on this part of the enemy's line.
The 43rd Infantry Brigade were detailed as Reserve to the 5th Corps at 11.40 p.m.
The rest of the night passed quietly.
Weather fine, wind slight S.E.
Casualties –                     officers 2.
5th/6th July                        other ranks 55.
(sd) V. Laufen
Major General
Commanding 14th (Light) Division
Return to Medicine on the Western Front (part two)