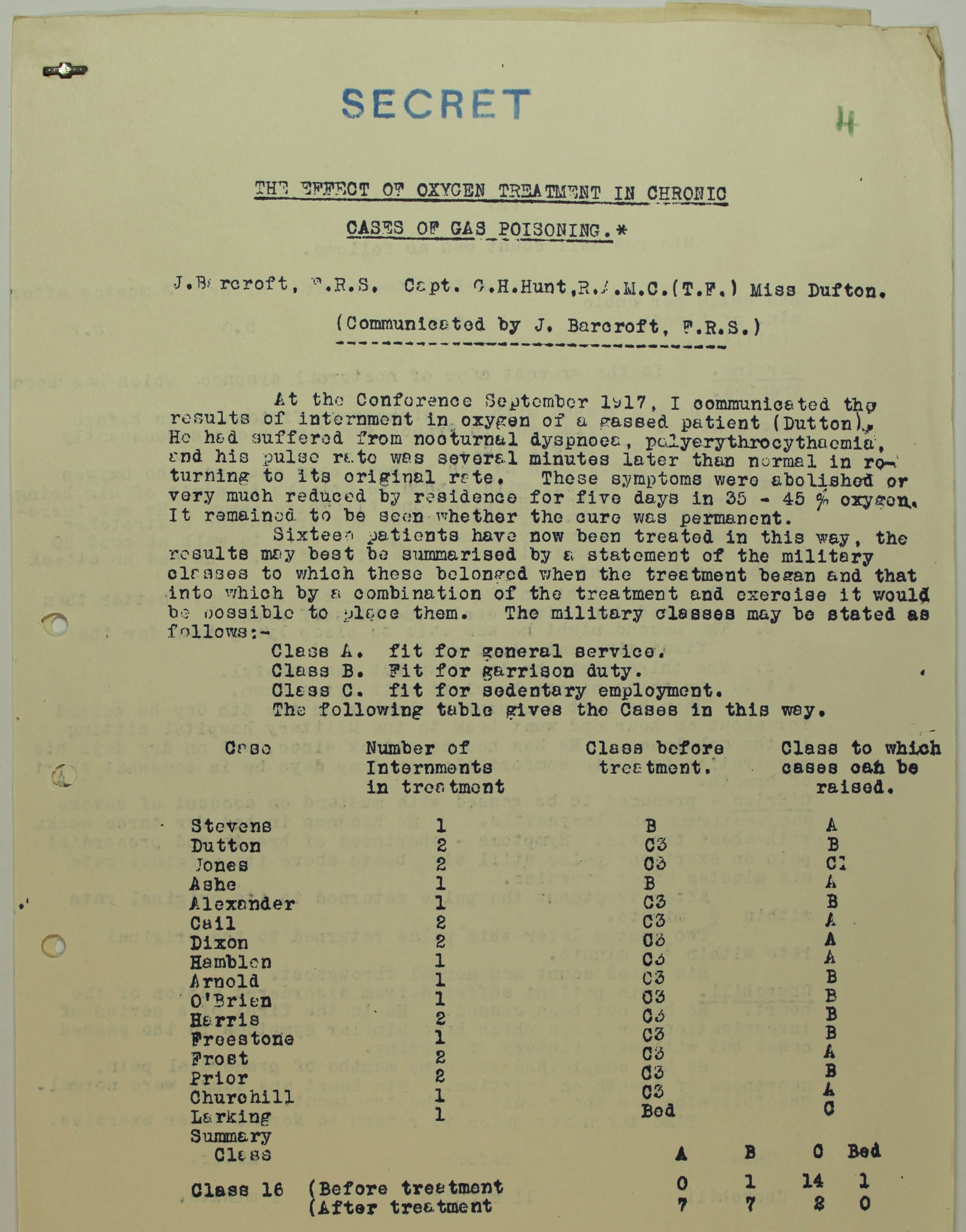 An extract from a secret report from War Office [Chemical Warfare Department] about the treatment of severe gas cases, (Catalogue ref: WO 142/183)
Transcript
SECRET
The Effect of Oxygen Treatment in Chronic Cases of Gas Poisoning
Barcroft, F.R.S. Capt. G.H .Hunt, R.A.M.C. (D.F.) Miss Dufton,
(Communicated by J. Barcroft, F.R.S.)
At the conference September 1917, I communicated the results of internment in oxygen of a gassed patient (Dutton). He had suffered from nocturnal dyspnoea, polyerythrocythaemia, and his pulse rate was several minutes later than normal in returning to its original rate. These symptoms were abolished or very much reduced by residence for five days in 35-45% oxygen. It remained to be seen whether the cure was permanent.
Sixteen patients have now been treated in this way, the results may best be summaried by a statement of the military classes to which these belonged when the treatment began and that into which by a combination of the treatment and exercise it would be possible to place them. The military classes may be stated as follows:-
Class A. fit for general service.
Class B. Fit for garrison duty.
Class C. fit for sedentary employment.
The following table gives the cases in this way.
Case
Number of Internments in treatment
Class before treatment
Class to which cases can be raised.
Stevens
1
B
A
Dutton
2
C3
B
Jones
2
C3
C1
Ashe
1
B
A
Alexander
1
C3
B
Cail
2
C3
A
Dixon
2
C3
A
Hamblen
1
C3
A
Arnold
1
C3
B
O'Brien
1
C3
B
Harris
2
C3
B
Freestone
1
C3
B
Frost
2
C3
A
Prior
2
C3
B
Churchill
1
C3
A
Larking
1
Bed
C
Summary Class
A
B
C
Bed
Class 16
(Before treatment
0
1
14
1
(After treatment
7
7
2
0
…
Return to Medicine on the Western Front (part two)