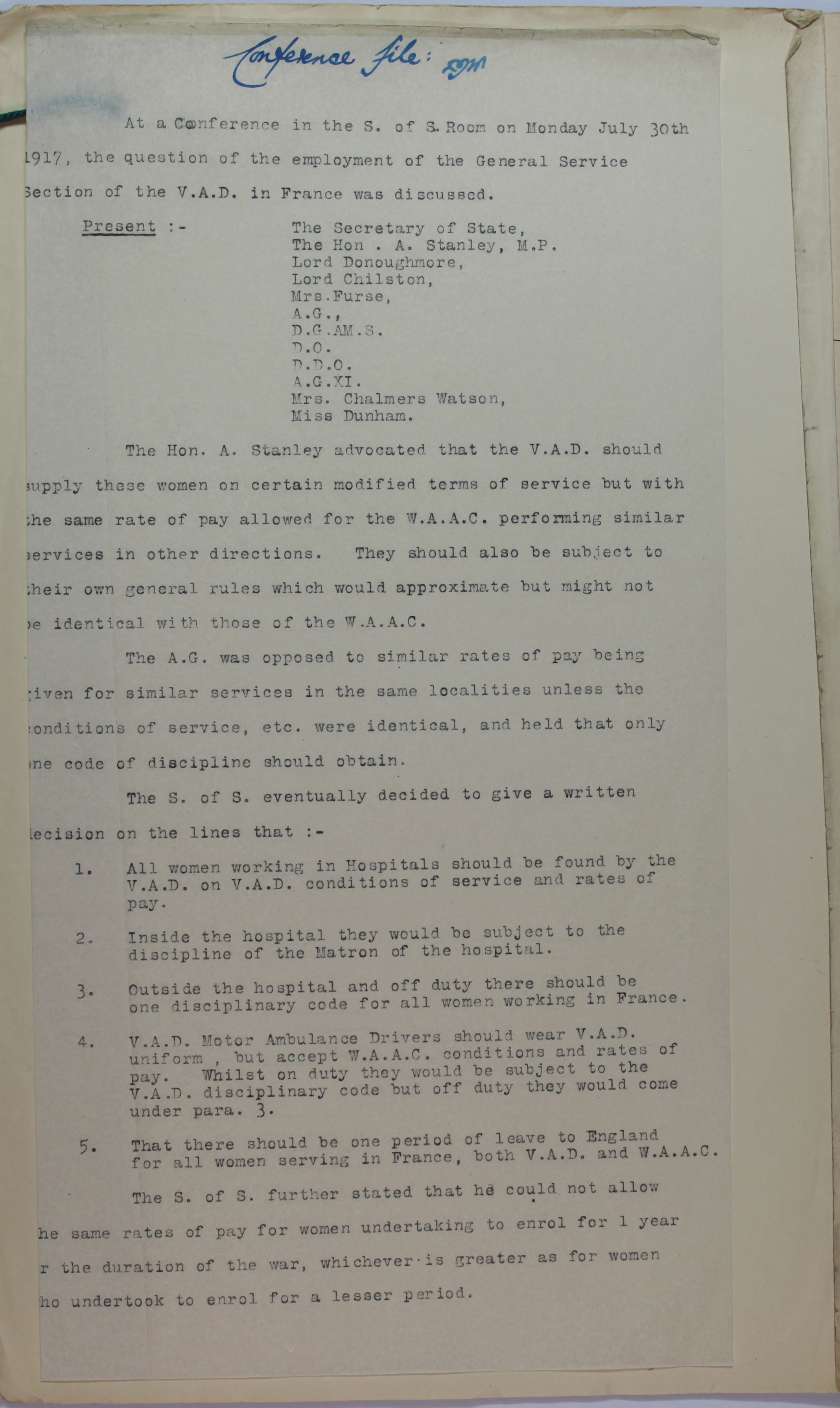 Notes from a meeting chaired by the Secretary of State about the role of Voluntary Aid Detachments (VADs), (Catalogue Ref: WO 162/36)
Transcript
Conference file: [initials]
At a Conference in the S. of S. Room on Monday July 30th 1917, the question of the employment of the General Service section of the V.A.D. in France was discussed.
Present: –
The Secretary of State,
The Hon. A.Stanley M.P.
Lord Donoughmore,
Lord Chilston,
Mrs. Furse,
A.G.,
D.G.AM.S.
D.O.
D.D.O
A.G.XI.
Mrs Chalmers Watson,
Miss Dunham.
The Hon. A. Stanley advocated that the V.A.D. should supply these women on certain modified terms of service but with the same rate of pay allowed for the W.A.A.C. performing similar services in other directions. They should also be subject to [t]heir own general rules which would approximate but might not [b]e identical with those of the W.A.A.C.
The A.G. was opposed to similar rates of pay being [g]iven for similar services in the same localities unless the [c]onditions of service, etc. were identical, and held that only one [c]ode of discipline should obtain.
The S. of S. [Secretary of State] eventually decided to give a written [d]ecision on the lines that :-
All women working in Hospitals should be found by the V.A.D. on V.A.D. conditions of service and rates of pay.
Inside the hospital they would be subject to the discipline of the Matron of the hospital.
Outside the hospital and off duty there should be one disciplinary code for all women working in France.
V.A.D. Motor Ambulance Drivers should wear V.A.D. uniform, but accept W.A.A.C. conditions and rates of pay. Whilst on duty they would be subject to the V.A.D. disciplinary code but off duty they would come under para. 3.
That there should be one period of leave to England for all women serving in France, both V.A.D. and W.A.A.C.
The S. of S. further stated that he could not allow [t]he same rates of pay for women undertaking to enrol for 1 year [o]r the duration of the war, whichever is greater as for women [w]ho undertook to enrol for a lesser period.
Return to Medicine on the Western Front (part two)