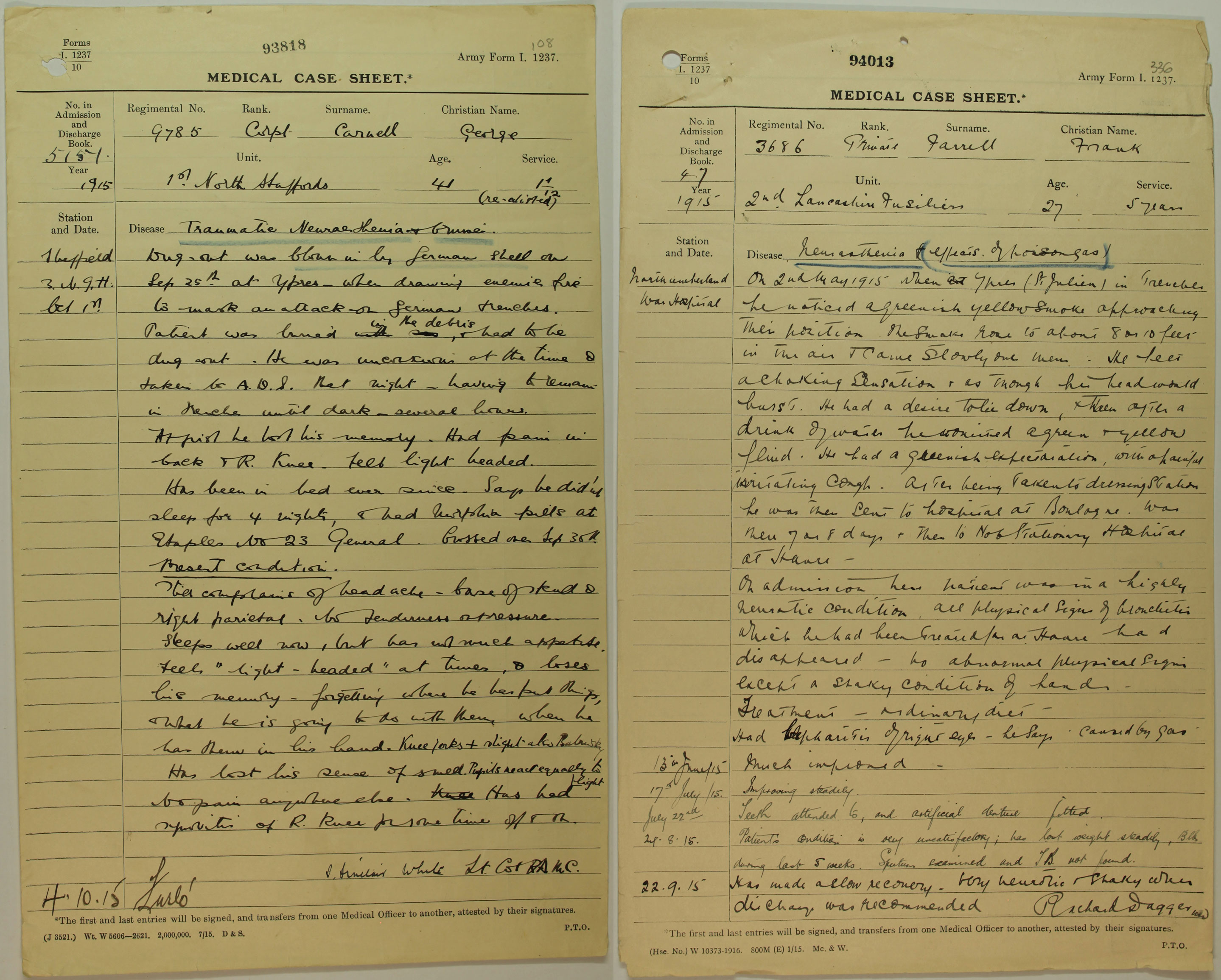 Two more cases of neurasthenia which also give details of trench warfare and other injuries. The symptoms of this condition include physical and mental exhaustion with headaches or irritability and can be linked to depression or emotional stress. Many 'shell shock' cases displayed symptoms of neurasthenia. (Catalogue ref: MH106/2101)
Transcript
Medical Case Sheet                                                     Army Form I 1237
No, in Admission and Discharge Book

5157

Regimental No.

9785

Rank

Corporal

Surname

Carnell

Christian Name

George

Year
Unit
Age
Service
1915
1st North Staffords
41
1 yr 4 months-re-enlisted
Station & Date

Sheffield

3 A.G.H.

Oct.1st

4.10.15

Disease: Traumatic Neurasthenia & bruises

Dug-out was blown in by German shell on 25th at Ypres- when drawing enemies fire to mask an attack on German trenches. Patient was buried in the debris and had to be dug out. He was unconscious at the time and taken to A.D.S. [advanced dressing station] that night-having to remain in trenches until dark-several hours.

At first he lost his memory. Had pain in back and right knee. Feels light headed. Has been in bed ever since. Says he didn't sleep for 4 nights, and had morphia pills at Etaples No. 23 General [hospital]. Crossed over [to England] Sept. 30th.

Present Condition

Still complains of headache- base of skull & right parietal. No tenderness on pressure. Sleeps well now, but has not much appetite feels "light-headed" at times, & loses his memory-forgetting where he has put things, & what he going to do with them when he has them in his hand. Knee jerks +slight also…

Has lost his sense of smell. Pupils react equally to light.

No pain anywhere else. Has had synovitis of the right knee for some time off and on [synovium membrane in the knee joint becomes inflamed, causes entire joint to swell and become tender].

Furlough [Leave] J. Sinclair White Lt. Colonel Royal Army Medical Corps
Medical Case Sheet                                                     Army Form I 1237
No, in Admission and Discharge Book

47

Regimental

3686

Rank

Private

Surname

Farrell

Christian Name

Frank

Year
Unit
Age
Service
1915
2nd Lancashire Fusiliers
27
5 years
Station & Date

Military

Northumberland War Hospital

13 July 15

17th July 15

July 22nd

August 8.15

22.9.15

Disease:  Neurasthenia & effects of poison gas

On the 2nd May 1915 when at Ypres (St. Julien) in trenches he noticed a greenish yellow smoke approaching their position. The smoke rose to about 8 or 10 feet in the air & came slowly over them. He felt a choking sensation & as though his head would burst. He had a desire to lie down & the after a drink of water he vomited a green & yellow fluid. He had a greenish expectation (phlegm) with a painful irritating cough. After being taken to dressing station he was then sent to Hospital at Boulogne. Was there 7 or 8 days & then to No.6. Stationary Hospital at Le Havre-

On admission here patient was in a highly neurotic condition, all physical signs of bronchitis which he had been treated for at Havre had disappeared- no abnormal physical signs except a shaky condition of hands.

Treatment- Ordinary diet- had blepharitis of right eye- he says caused by gas

Much improved

Improving steadily

Teeth attended to, and artificial denture fitted

Patient's condition is very unsatisfactory, has lost weight steadily, 13lbs during 5 weeks. Sputum examined and T.B. not found

Has made a slow recovery. Very neurotic & shaky when discharge was recommended.
Return to Medicine on the Western Front (part two)