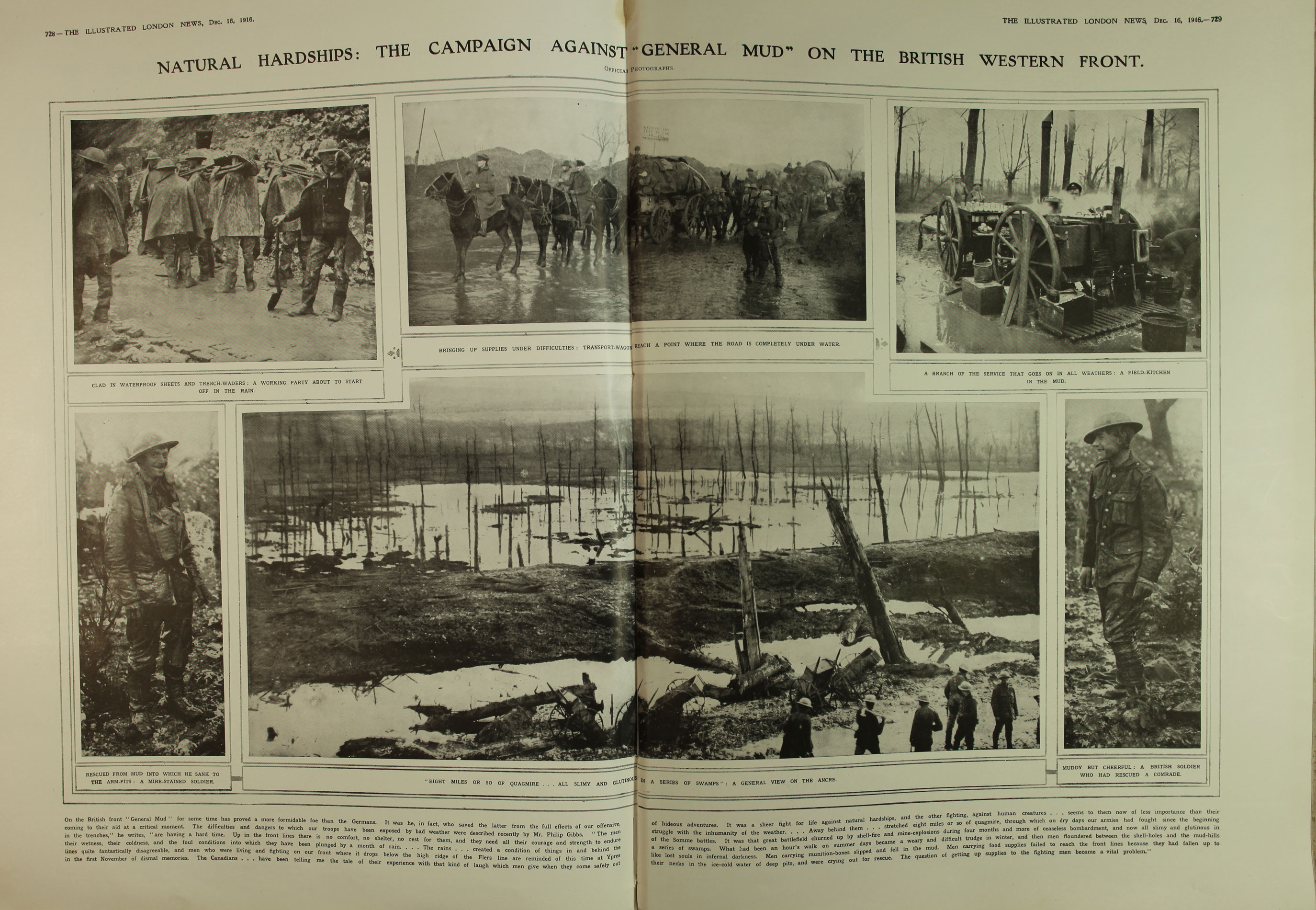 Article with photographs from the Illustrated London News entitled: 'Natural hardships: The campaign against "General Mud" on the British Western Front', 16 December 1916, (Catalogue ref: ZPER 34/148)
Transcript
Natural hardships: The campaign against "General Mud" on the British Western Front
(Official photographs)
Photograph captions (Top row from Left to Right)
Clad in waterproof sheets and trench-waders: A working party about to start off in the rain.
Bringing up supplies under difficulties: transport-wagon(s) reach a point where the road is completely underwater.
A branch of the service that goes on in all weathers: A field-kitchen in the mud
Photograph captions (Bottom row from Left to Right)
Rescued from mud into which he sank to the arm-pits: A mire-soaked soldier
"Eight miles or so of quagmire [boggy ground]…All slimy and glutinous in a series of swamps": A general view on the Ancre.
Muddy but cheerful: A British soldier who had rescued a comrade.
On the British front "General Mud for some time has proved a formidable foe than the Germans. It was he, in fact, who saved the latter from the full effects of our offensive coming to their aid at a critical moment. The difficulties and the dangers which our troops have been exposed by bad weather were described recently by Mr. Phillip Gibbs; "The men in the trenches", he writes "are having a hard time. Up in the front lines there is no comfort, no shelter, no rest for them, and they need all their courage and strength to endure their wetness, their coldness, and the foul conditions into which they have been plunged by a month of rain…The rains… created a condition of things in and behind the lines quite fantastically disagreeable, and men who were living and fighting on our front where it drops below the high ridge of the Flers line are reminded of this time at Ypres in the first November of dismal memories. The Canadians…have been telling me the tale of their experiences with that kind of laugh which men give when they come safely out of hideous adventures. It was a sheer fight for life against natural hardships, and the other fighting, against human creatures… seems to them now of less importance than their struggle with the inhumanity of the weather…Away behind them…stretched eight miles or so of quagmire, through which on dry days our armies had fought since the beginning of the Somme battles. It was that great battlefield churned up by shell-fire and mine-explosions during the four months and more of ceaseless bombardment, and now all slimy and glutinous in a series of swamps. What had been an hour's walk on summer days became a weary and difficult trudge in winter, and then men floundered between the shell-holes and the mud-hills like lost souls in infernal darkness. Men carrying munition-boxes slipped and fell in the mud. Men carrying food supplies failed to reach the front lines because they had fallen up to their necks in the ice-cold water of deep pits, and were crying out for rescue. The question of getting up supplies to the fighting men became a vital problem."
Return to Medicine on the Western Front (part two)