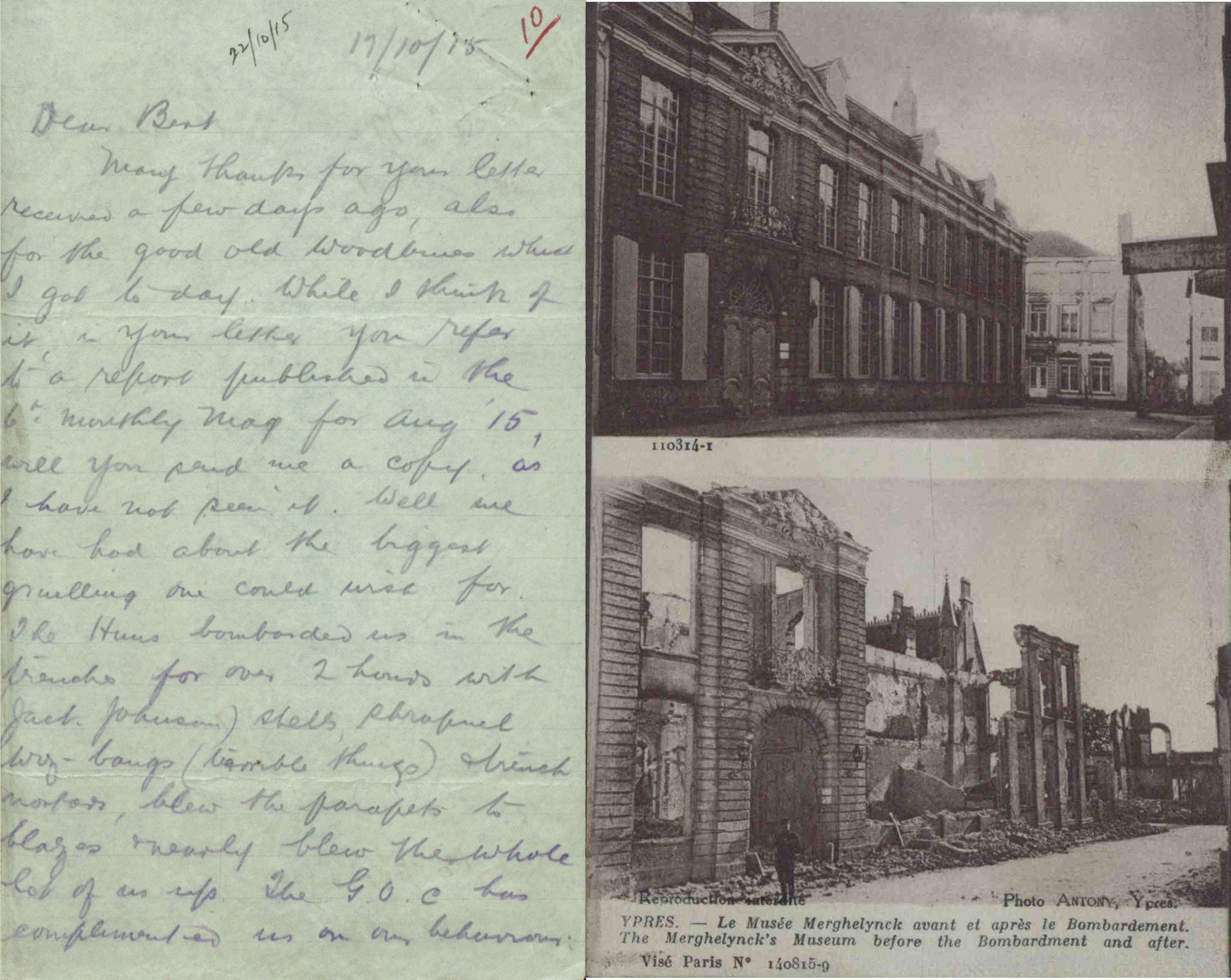 This is one of many letters sent by staff of the Great Western Railway (GWR) Audit office at Paddington who had enlisted to fight in the First World War. (RAIL 253/516)
Jonathan George Symons, 19 October 1915, Belgium. Born: 22 August 1875, Joined GWR: 28 October 1889, Regiment: 13 County of London Regiment (King's Royal Rifles Corps), Regiment number: 6389, Died: 1941
Transcript
Dear Bert,
Many thanks for your letter received a few days ago, also for the good old Woodbines which I got today. While I think of it in your letter you refer to a report published in the 6th monthly Magazine for August '15, will you send me a copy, as I have not seen it.
Well, we have had about the biggest gruelling we could wish for. The Huns bombarded us in the trenches for over two hours with Jack Johnson* shells, shrapnel, whizz bangs* (terrible things) and trench mortars, blew the parapets to blazes and nearly blew the whole lot of us up. The General Officer Commanding has complimented us on our behaviour. We are now resting at a place called Vlamertinghe, just south of Ypres and a couple miles North of Poperinghe [Poperinge] in Belgium. We deserve a rest for we have spent thirty-nine days in dugouts and the trenches (except three days) and needless to tell you we are very crummy, which tends to spoil the rest we are having. I never thought I was going to another phase of them after South Africa. I was in Poperinghe (where I met Jackson a few weeks ago)…
The beauty of it out here is we can stand a pal a drink, and also have one with him. I suppose shall have to wait for my increase, being an absentee from the office, anyway they can add it on to my salary as soon as they like for I shall then be able to pay more income tax. I enclose a few postcards. They are showing in each card before and after, or during and after the bombardment of Ypres, so you can guess what the place looks like. Well Bert in conclusion I must tell you that one of our Sergeants who is on leave, posted this in London for me, that's why I am able to give you a few details. Kind regards to all friends in the Audit,
Your sincere friend,
Jack Symons.
Return to Letters from the First World War, part one