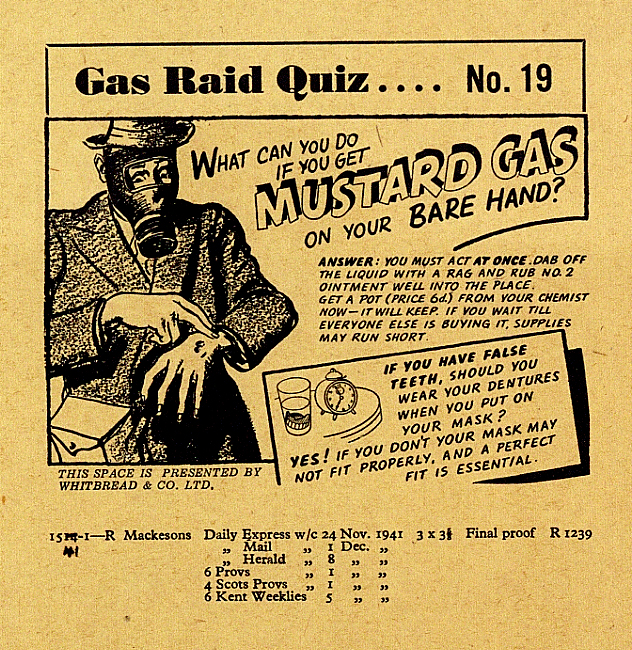 Gas Raid quiz to be placed in newspapers by the government, 1941, Catalogue ref: HO 186/2247
The British feared that the Germans would use gas, probably launched from aeroplanes or boats. Gas had been used on the battlefields during the First World War with terrible results but had not been used on civilian populations. Lots of work places had tests where members of staff had to wear a mask while working for 15 minutes or more and schools held frequent practices. In the end gas was never used against the British, so the effectiveness of the preparations was never tested.
Why do you think this 'Gas Quiz' was placed in newspapers?
Do you think it is more or less effective than the instructions for what to do in a gas attack printed in Sunday newspapers, May 1941? Catalogue ref: HO 186/2247
Can you find a document which explains why the government wanted to prepare the country for potential gas attacks?
Transcript
Gas Raid Quiz… No. 19
What can you do if you get mustard gas on your bare hand?
Answer: You must act at once. Dab off the liquid with a rag and rub No. 2 ointment well into the place. Get a pot (price 6d.) from your chemist now – it will keep. If you wait till everyone else is buying it, supplies may run short.
If you have false teeth, should you wear your dentures when you put on your mask? Yes! If you don't your mask may not fit properly, and a perfect fit is essential.
Return to Home Front 1939-1945 (part one)