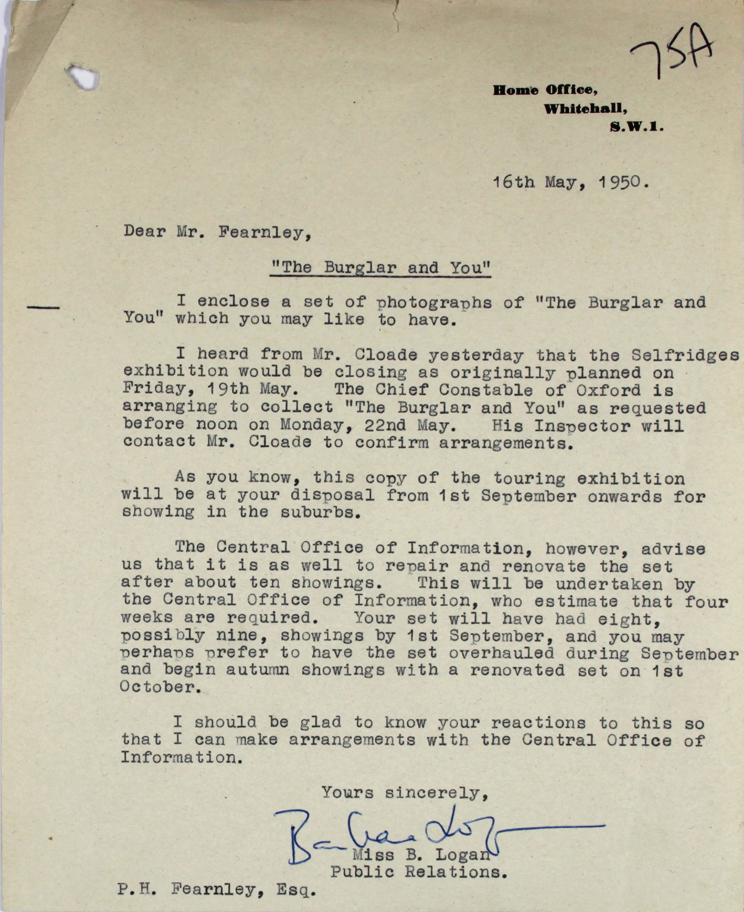 A letter from the Home Office to an officer at New Scotland Yard, 16th May 1950 (MEPO 2/8052)
Transcript
Home Office,
Whitehall
S.W.1
Dear Mr. Fearnley,
16th May, 1950
"The Burglar and You"
I enclose a set of photographs of "The Burglar and You" which you might like to have.
I heard from Mr. Cloade yesterday that the Selfridges exhibition would be closing as originally planned on Friday, 19th May. The Chief Constable of Oxford is arranging to collect "The Burglar and You" as requested before noon on Monday, 22nd May. His Inspector will contact Mr. Cloade to confirm arrangements.
As you know, this copy of the touring exhibition will be at your disposal from 1st September onwards for showing in the suburbs.
The Central Office of Information, however, advise us that it is as well to repair and renovate the set after about ten showings. This will be undertaken by the Central office of Information, who estimate that four weeks are required. Your set will have had eight, possibly nine, showings by 1st September, and you may perhaps prefer to have the set overhauled during September and begin autumn showings with a renovated set on 1st October.
I should be glad to know your reactions to this so that I can make arrangements with the Central Office of Information.
Yours sincerely,
Miss B. Logan
Public Relations
P.H. Fearnley, Esq.
[Public Information Officer]
[New Scotland Yard]
Return to Fifties Britain