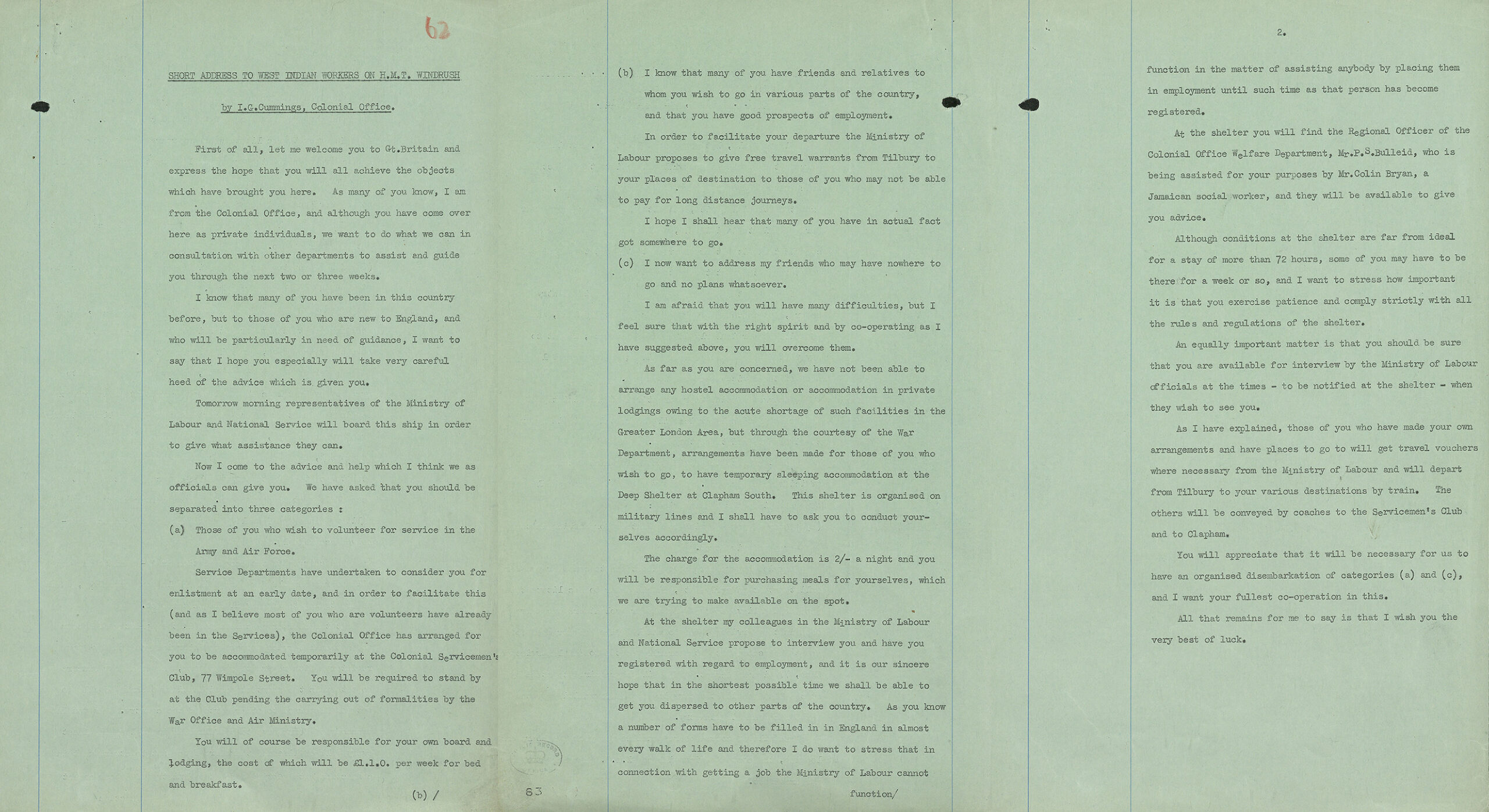 'Short address to West Indian Workers on H.M.T. Windrush', by I. G. Cummings. Catalogue ref: CO 876/88 
What assistance is to be provided by the Ministry of Labour and National Service departments/?

 

What travel support is to be given and who is it for?

 

What plans have been made for accommodation on arrival for those staying in London?

 
Transcript
SHORT ADDRESS TO WEST INDIAN WORKERS ON H.M.T WINDRUSH
By I.G. Cummings, Colonial Office
First of all let me welcome you to Gr. Britain and express the hope that you will all achieve the objects which have brought you here. As many of you know, I am from the Colonial Office, and although you have come over here as private individuals, we want to do what we can in consultation with other departments to assist and guide you through the next two or three weeks.
I know that many of you have been in this country before, but to those of you who are new to England, and will be particularly in need of guidance, I want to say that I hope you especially will take very careful heed of the advice which is given to you.
Tomorrow morning representatives of the Ministry of Labour and National Service will board this ship in order to give what assistance they can.
Now I come to the advice and help which I think we as officials can give you. We have asked that you should be separated into three categories:
Those of you who wish to volunteer for service in the Army and Air Force.
Service Departments have undertaken to consider you for enlistment at an early date, and in order to facilitate this (and as I believe most of you who are volunteers have already been in the Services), the Colonial Office has arranged for you to be accommodated temporarily at the Colonial Servicemen's Club, 77 Wimpole Street. You will be required to stand by at the Club pending the carrying out of formalities by the War Office and Air Ministry.
You will be of course, be responsible for your own board and lodging, the cost of which will be £1.1.0. per week for bed and breakfast.
I know that many of you have friends and relatives to who you wish to go in various parts of the country, and that you have good prospects of employment. In order to facilitate your departure the Ministry of Labour proposes to give free travel warrants from Tilbury to your places of destination to those of you who may not be able to pay for long distance journeys. I hope I shall hear that many of you have in actual fact got somewhere to go.
I now want to address my friends who may have nowhere to go and no plans whatsoever.
I am afraid that you will have difficulties, but I feel sure that with the right spirit and by co-operating as I have suggested above, you will overcome them.
As far as you are concerned, we have not been able to arrange any hostel accommodation or accommodation in private lodgings owing to the acute shortage of such facilities in the Greater London Area, but through the courtesy of the War Department, arrangements have been made for those of you who wish to go, to have temporary sleeping accommodation at the Deep Shelter at Clapham South. This shelter is organised on military lines, and I shall have to ask you to conduct yourselves accordingly.
The charge for the accommodation is 2 shillings a night and you will be responsible for purchasing meals yourselves, which we are trying to make available on the spot.
At the shelter my colleagues in the Ministry of Labour and National Service propose to interview you and have you registered with regard to employment, and it is our sincere hope that in the shortest possible time we shall be able to get you dispersed to other parts of the country. As you know a number of forms have to filled in in England in almost every walk of life and therefore, I do want to stress that in connection with getting a job the Ministry of Labour cannot function in the matter of assisting anybody by placing them in employment until such time as that person has become registered.
At the shelter you will find the Regional Officer of the Colonial Office Welfare Department, Mr. P.S. Bulleid, who is being assisted for your purposes by Mr. Colin Bryan, a Jamaican social worker, and they will be available to give you advice.
Although conditions at the shelter are far from ideal for a stay of more than 72 hours, some of you may have to be there for more than a week or so, and I want to stress how important it is that you exercise patience and comply strictly with all the rules and regulations of the shelter.
An equally important matter is that you should be sure that you are available for interview by the Ministry of Labour officials at the times – to be notified at the shelter- when they wish to see you.
As I have explained, those of you who have made your own arrangements and have places to go to will get travel vouchers where necessary from the Ministry of Labour and will depart from Tilbury to your various destinations by train. The others will be conveyed by coaches to the Servicemen's Club and to Clapham.
You will appreciate that it will be necessary for us to have an organised disembarkation of categories (a) and (c), and I want your fullest co-operation in this.
All that remains for me to say is that I wish you the very best of luck.
Return to Commonwealth migration since 1945