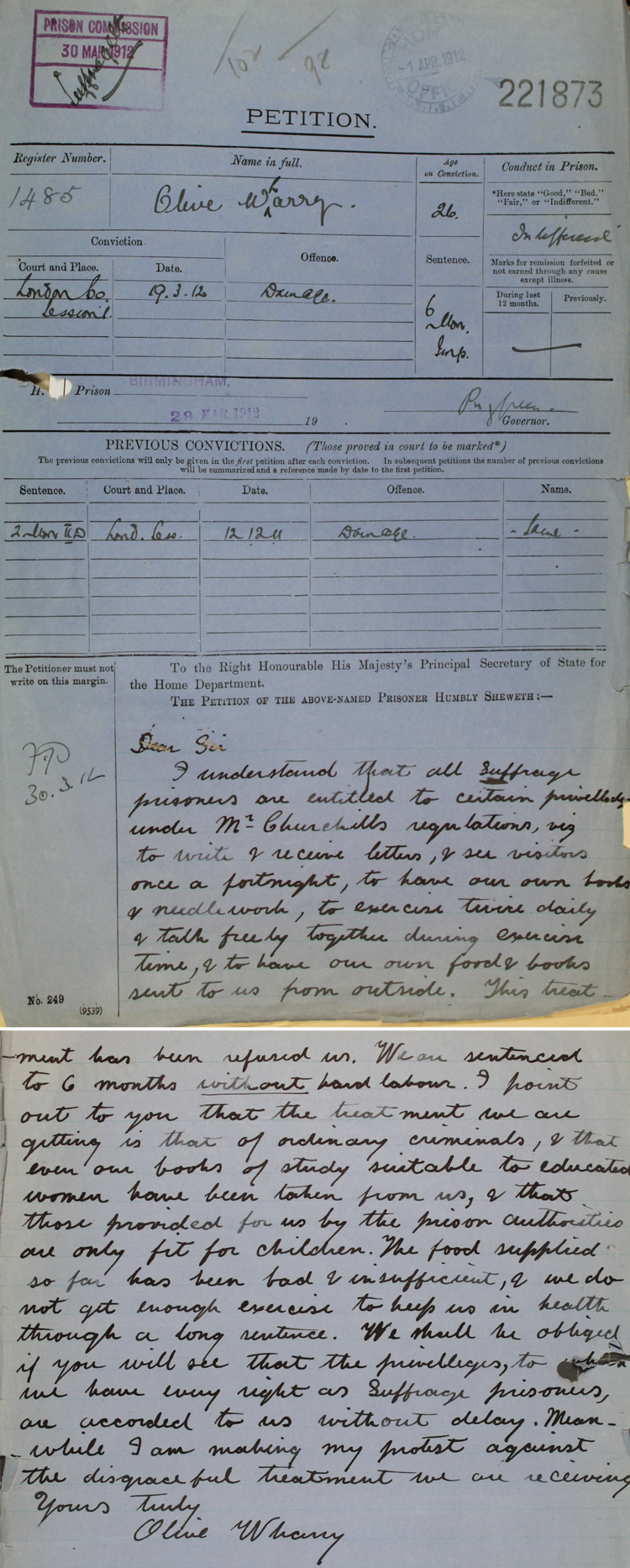 Olive Wharry's petition from prison, 30 March 1912 (HO 144/1205/221873)
Transcript
[stamp]
PRISON COMMISSION
30 March 1912
PETITION.
Register Number. 1485
Name in full. Olive Wharry
Age on Conviction. 26
Conduct in Prison. Indifferent
Conviction. London Co. Session 19.3.12
Offence. Damage
Sentence. 6 Mon Imp.
…
To the Right Honourable His Majesty's Principal Secretary of State for the Home Department.
THE PETITION OF THE ABOVE-NAMED PRISONER HUMBLY SHEWETH:-
Dear Sir
30.3.12
I understand that all suffrage prisoners are entitled to certain privileges under Mr. Churchill's regulations, viz, to write & receive letters & see visitors once a fortnight, to have our own foods & needlework, to exercise twice daily & talk freely together during exercise time & to have our own food & books sent to us from outside.
This treatment has been refused us. We are sentenced to 6 months without hard labour. I point out to you that the treatment we are getting is that of ordinary criminals, & that even our books of study suitable to educated women have been taken from us, & that those provided for us by the prison authorities are only fit for children. The food supplied so far has been bad & insufficient, & we do not get enough exercise to help us in health through a long sentence. We shall be obliged if you will see that the privileges, to which we have every right as Suffrage prisoners, are accorded to us without delay. Meanwhile I am making my protest against the disgraceful treatment we are receiving.
Yours truly
Olive Wharry
Return to Cats and mice