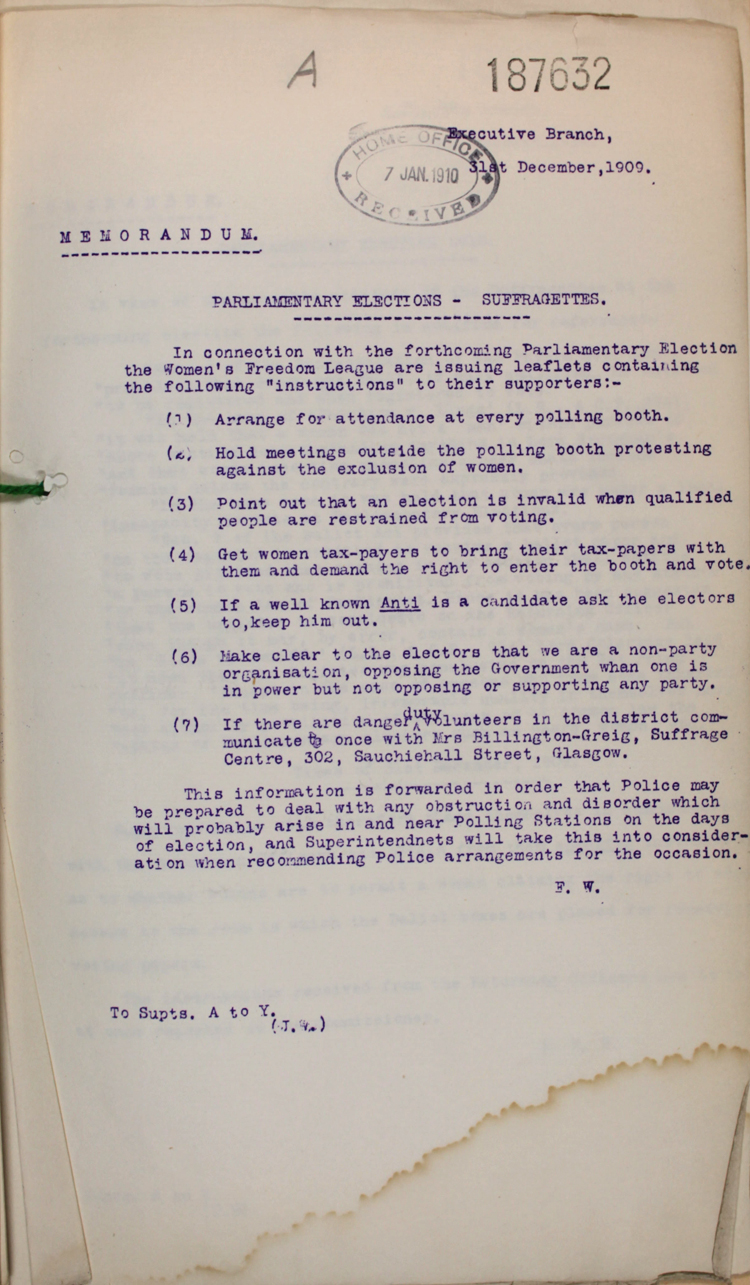 A police memorandum on the forthcoming 1910 General Election, 31 December 1909 (HO 45/10597/187632)
Transcript
Executive Branch,
31st December, 1909
M E M O R A N D U M
PARLIAMENTARY ELECTIONS – SUFFRAGETTES
In connection with the forthcoming Parliamentary Election the Women's Freedom League are issuing leaflets containing the following "instructions" to their supporters-:
1. Arrange for attendance at every polling booth.
2. Hold meetings outside the polling booth protesting against the exclusion of women.
3. Point out that an election is invalid when qualified people are restrained from voting.
4. Get women tax-payers to bring their tax-papers with them and demand the right to enter the booth and vote.
5. If a well known Anti is a candidate ask the electors to keep him out.
6. Make clear to the electors that we are a non-party organisation, opposing the Government when one is in power but not opposing or supporting any party.
7. If there are danger duty volunteers in the district communicate at once with Mrs Billington-Greig, Suffrage Centre, 302, Sauchiehall Street, Glasgow.
This information is forwarded in order that Police may be prepared to deal with any obstruction and disorder which will probably arise in and near Polling Stations on the days of election, and Superintendents will take this into consideration when recommending Police arrangements for the occasion.
F.W.
To Supts. A to Y
(J.V.)
Return to Cats and mice