How did Britain try to keep the support of the people of West Africa?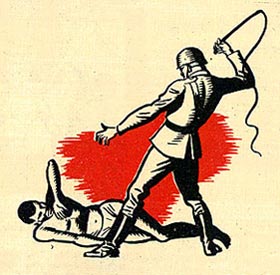 Detail from a propaganda leaflet designed for distribution in West Africa 1940's (INF 2/1 pt4)
Propaganda is information that is spread to promote a cause. During the Second World War, Britain and her allies fought against Germany and the axis powers in a war which took place on land and sea in many parts of the world. Both sides made use of propaganda to try and win support from other countries.
Britain was keen to keep the support of the colonies in her Empire, including those in West Africa, and sent propaganda leaflets like the one in this lesson to try and help win their support.
Tasks
1. This is a propaganda leaflet designed for distribution in West Africa. It was printed in the early 1940s. Your task is to study both the words and pictures in this leaflet in order to work out how it tried to persuade West Africans to support Britain rather than Hitler.

The leaflet is a piece of persuasive writing and uses a number of writer's tricks. See how many of the following you can spot being used:

alliteration (a phrase where adjacent or closely related words begin with the same letter sound)
personal pronouns 'you' and 'your'; count how many times they appear
references to the reader's children
loaded words - 'partner' and 'slave'
repetition of the key idea.
2. How does each of these help to persuade the reader?
3. Why is the leaflet illustrated?
4. Why is the leaflet in colour?
5. Do you think West Africa would have been a comfortable place to live under German occupation?
6. How do you think what the artist has drawn has persuaded you?
7. Look at the Germans. Describe how they are drawn to make them look bad.
8. Summarise the message of the leaflet.
9. Do you think it would have worked?
Background
Teacher's notes