What can we find out about his life?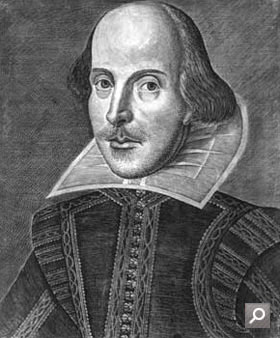 Engraving of William Shakespeare by Martin Drosehout from the first folio edition of his plays 1623
William Shakespeare is often thought of as one of the greatest writers in the English language. His plays have been translated into every major language, and are performed more often than any other playwright. Shakespeare's writing also affected the way the English language evolved, and several words and phrases, such as 'all's well that ends well', 'with bated breath' and 'a foregone conclusion' have moved into everyday use.
This lesson gives you the chance to look at primary sources concerning Shakespeare, including his will and information about his taxes.
Tasks
1. Take a look at these extracts from Shakespeare's will, 1616.

Write down what Shakespeare's bequests were to the following people:

Susannah (eldest daughter)
Judith (second daughter)
Joan Hart (sister)
Joan's three sons (nephews)
Elizabeth Hall (granddaughter)
The poor of Stratford
Mr Thomas Combe (friend's nephew)

Who, in your opinion, is missing from the list above?
Who is put in charge of the will (the executor)?
What does Shakespeare leave to his wife?
Is there anything to suggest even this bequest is an afterthought?
Many experts suggest that this is in no way an insult - suggest three alternative explanations for Shakespeare's gift.
2. This is an extract from a certificate made by the tax commissioners showing a list of people living in St Helen's Bishopsgate, who had not paid their tax in November 1597.

How much are Shakespeare's goods valued at?
How much tax does Shakespeare owe?
This source shows 'defaulters' - what do you think this means?
What has happened to Shakespeare? Why hasn't he paid his tax?
3. This is an extract from a list made by the tax commissioners of people living in St. Helen's Bishopsgate, who had not paid their tax in October 1598. (This area of London was close to Shoreditch where the Lord Chamberlain's company of actors performed.)

What is the difference in time between Source 2 and Source 3?
How much tax does Shakespeare now owe?
4. This entry (in Latin) is in the main account of the Exchequer (Pipe Roll) of 1599-1600, and shows details of what Shakespeare has owed for tax since 1597 when he was last known to have lived in St. Helen's, Bishopgate.

The money owed by Shakespeare is now the 'business' of' whom?
What does this evidence suggest?
What do you think Shakespeare has been up to between 1597 and 1599?
5. In 1561, Shakespeare's grandfather left a personal estate of £83 7s 6d. looking at the bequests in his will, what does this suggest about William Shakespeare's success? What do you think happened to his finances throughout his life?
Background
Teachers Notes