The Trimdon Grange mining accident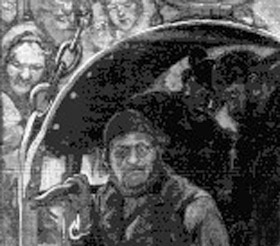 Source 1 - A Colliery Explosion: Volunteers to the Rescue 1882 (ZPER 34/80)
In 1882, 74 men and boys lost their lives in an explosion at a coal mine. Almost everyone in the small town of Trimdon Grange near Durham lost a father, brother, husband, or grandfather.
Source 1 comes from a popular magazine called the Illustrated London News (1882). Source 2 was written by Tommy Armstrong, who was from the region. All the people and events mentioned in the song are real.
Tasks
1. Look at Source 1. Look at the picture and answer the questions below:

Describe what you can see in the picture.
What do you think has happened?
How could you work when this picture was set if you did not know the date?
Choose a person in the picture. Describe events from their point of view. How are they feeling and why? What can they hear and see around them?
Choose another person in the picture. What questions would you ask them about the events that have taken place?
2. Read Source 2 : Trimdon Grange Explosion. This song was written by a local man, Tommy Armstrong, at the time of the disaster.

Read 'Trimdon Grange Explosion'. What do you think is happening in the song?
Discuss with your partner, and make a simple storyboard or flowchart of events.
The song mostly uses literal language (says exactly what it means). What effect does this have on the reader?
Working in groups, choose one verse of the song, and freeze-frame the different events in that verse.
Watch your friends' performances, and evaluate their work. Think about what they have done really well and why, and what they could do to improve their performance.
Background
Teacher's notes