What was school like 100 years ago?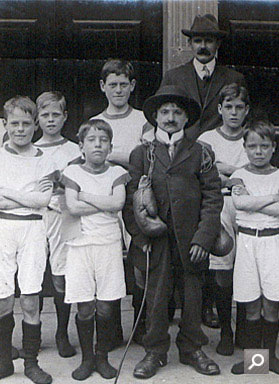 Boys Home Industrial School - Boxing Class 1910 (MH 102/2692 f79)
Life at school in the Edwardian era was very different to how it is now. These photographs can tell us a lot about how children were taught at the beginning of this century. These children were in fact quite lucky, as they were at school and not working. A generation earlier, in the 1860s, one third of children in England and Wales did not attend school at all and right up until 1881 children were not required to go.
Only in the 20th century were young children no longer regularly expected to work alongside adults. By 1918 school attendance was not only compulsory but the school leaving age was raised from 12 to 14 years old.
Edwardian schools were similar in a lot of ways to modern ones. Classes were taken in the 'three R's' (reading, writing and arithmetic) and there were also physical education lessons ('drill'). Girls were generally taught sewing and needlework.
In addition to their normal lessons, young people also usually attended Sunday School for religious education.
Tasks
1. Look at Source 1. This is a photograph taken at Boys Home Industrial School in 1910. Can you find :

the master's desk
a framed photograph
any evidence of heating and lighting
2. Look at Source 2. This is a photograph of boys from the Boys Home Industrial School studying and playing dominoes. Can you explain :

what the classroom might have been like in the winter.
how what is on the wall is different from your classroom.
why the windows are so large.
3. Look at Source 3. This is a photograph of a physical exercise display. It was taken on Founders Day at the Boys Home Industrial School in about 1910. Can you describe :

the uniform the boys are wearing
the equipment they are using
4. How different is this school to the school you are at today? Make a list of the things that are different and the things that are the same:

Do you think that school teachers in Edwardian times would normally sit with the children, or do you think these teachers posed for the photographs?
Background
Teacher's notes