How did the Abolition Acts of 1807 and 1833 affect the slave trade?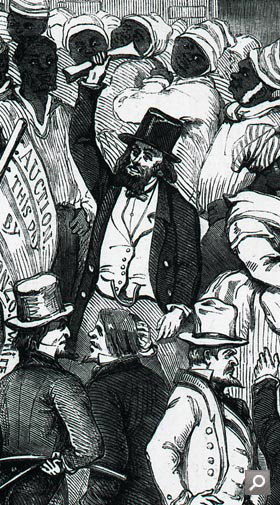 Slave sale, Charleston, South Carolina 1856 (ZPER 34/29)
As soon as Europeans began to settle in America, in the early 16th century, they imported enslaved Africans to work for them. As European settlement grew, so did the demand for enslaved people. Over the next 300 years more than 11 million enslaved people were transported across the Atlantic from Africa to America and the West Indies, and Britain led this trade from the mid-17th century onwards. Ports such as Bristol, Liverpool and Glasgow sent out many slaving ships each year, bringing great prosperity to their owners. Many other cities also grew rich on the profits of industries which depended on slave-produced materials such as cotton, sugar and tobacco.
The campaign in Britain to abolish slavery began in the 1760s, supported by both black and white abolitionists. The battle was long and hard-fought, with pro-slavery campaigners arguing that the slave trade was important for the British economy and claiming that enslaved Africans were happy and well-treated. However the frequent rebellions by enslaved Africans and evidence of the appalling conditions endured by them during and after transportation led to growing support for the demands to abolish the slave trade. Eventually, in 1807, Parliament passed an Act for the Abolition of the Slave Trade, which abolished the trade by Britain in enslaved peoples between Africa, the West Indies and America.
The pro-slavery campaigners had argued that with no new enslaved Africans being traded slave-owners would treat their existing slaves better. However, it was clear that enslaved people were still harshly treated and many continued to resist and rebel against their enslavement. In 1833 Parliament passed a further act to abolish slavery in the British West Indies, Canada and the Cape of Good Hope (southern Africa), meaning that it was now illegal to buy or own a person. However, slavery continued in other areas of the British Empire including the territories run by the East India Company, Ceylon (modern day Sri Lanka) and St Helena. Between 1808 and 1869 the Royal Navy's West Africa Squadron seized over 1,600 slave ships and freed about 150,000 Africans but, despite this, it is estimated that a further 1 million people were enslaved and transported throughout the 19th Century.
Tasks
1. Read Source 1. Look at the names on the document.

These enslaved people originated in Africa. Are these African names? Who named them?
How many names do the enslaved Africans have? Why weren't they given surnames?
Which enslaved people are male and which are female? Does their gender make any difference to how they were treated by the court?
Dominica had been a French possession until 1763. Which of the slaves have French names?
2. Now look at the charges against the enslaved Africans in Source 1.

What have most of these enslaved people been charged with?
Dominica is quite a small island. When the first census was carried out there in 1834 the population (whites and blacks) was only 14,000. What does this document tell you about the scale of resistance by runaways?
3. There are 13 enslaved Africans listed in the document.

How many were hanged? How many whipped? How many discharged?
What happened to Pierre (January 28th)?
Why do you think the sentences handed out were so ferocious?
What would you say about this document if you were a British abolitionist working for the total abolition of slavery?
What would you say about it if you were a defender of slavery?
4. Look at Source 2a, b and c.

Having been the largest slaving nation, Britain became a determined abolitionist power after 1833, using the Royal Navy to stop ships suspected of being slavers. These photographs were taken about 1868, off the east coast of Africa. They form part of a Report from John Armstrong Challice, a Lieutenant in the Royal Navy, working to abolish slavery in Zanzibar. Zanzibar did not abolish slavery until 1897.

We know very little about these pictures. Use the clues you can pick out from the photographs to suggest what they actually show.
Write a brief description of the enslaved people -age, numbers, clothing, other conditions.
These photographs were taken about 1869, in the Indian Ocean. How useful are they as evidence of the Atlantic slave trade before its abolition in 1807?
The ship on which these photographs were taken was the HMS Daphne, a British naval ship used to prevent the transportation of enslaved people. Do you think Britain had the right to act as the world's police, stopping and searching ships of other nations? (Remember that Britain had been a large slave trading nation until 1833.)
Background
Teacher's notes