How did Henry VIII get up in the morning?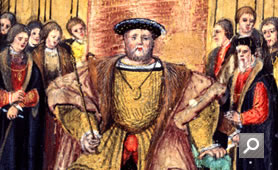 Title page of the Valor Ecclesiasticus (Church Valuation), commissioned by Henry VIII 1536 (E 344/22)
Henry VIII became King of England in 1509, aged 18. He was determined to be a great king, looked up to by everyone. He showed this in lots of ways: his grand portraits, his keenness for French wars and his behaviour towards his court and to other kings.
He also showed it in his control of every detail of his daily life. One measure of greatness at that time was the number of people that surrounded you, the more people, the more important you were. When Henry stayed at Hampton Court he was attended by nearly 1,000 people.
Controlling this number of people was quite a job and in 1526, while he was staying at another of his palaces, at Eltham, a strict and detailed set of rules was drawn up by his closest advisor Cardinal Thomas Wolsey. Here are some extracts from these rules.
Tasks
1. This is an extract from the Ordinances of Eltham which sets out the start to the King's day.

Write down what the pages and esquires did each morning.
What did the gentlemen of the privy chamber have to do?
Who were the only people allowed to touch the King?
Why do you think this was?
2. This section of the ordinances deals with the duties of the King's barber and the behaviour of his staff.

How often did the barber visit the King?
What tools did he use to help him with his job?
What was the punishment for the barber if he mixed with the wrong kind of people?
Why do you think that it was important who he mixed with?
What were you not allowed to do in the King's chamber?
When was the only time you would be allowed to do this?
Why do you think it was so important?
3. This piece of the document deals with how the people who worked in the Privy Chamber should act.

What do you think is meant by the sentence 'fhall be loving together, and of good unity and accord'?
Why do you think they were not allowed to talk about what happened in the chamber?
If you had to write a list of rules for the people who worked in the chamber, what would they be?
4. You are now going to pretend you are making a film about how King Henry VIII gets up;

Draw a table with a column for the shot number, one for what each shot would show, and a third column for the voice-over (words to go with the shot).
Now fill in the your table for what you think you would put in your film.
Add a fourth column to your table for the King's words.
Think about what the King would say in each shot, then add this to your table.
5. The point of all this was to increase the importance of Henry VIII. How do each of the following points show this?

having lots of servants
having upper class people serve the King
doing things in the right order
strict control of good behaviour
Background
Teachers Notes