What was it like living in a late 19th century mining town?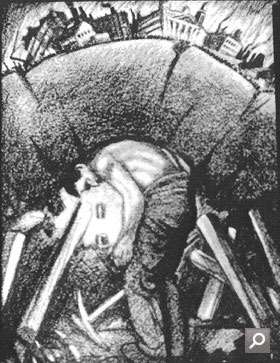 Detail of drawing of a miner (COAL 13/116)
Trimdon is an area of County Durham in the north of England which covers the towns of Trimdon, Trimdon Grange and Trimdon Colliery. At the beginning of the 19th century it was simply fields and moors. By the middle of the 19th century more people came to live and work in the area. A railway was built and houses sprang up near to the railway line. By the late 19th century Trimdon had grown even bigger; there were now several roads and rows of houses.
In this lesson, we are going to look at a number of different sources about Trimdon. We are trying find out what it must have been like to live in Trimdon in the late 19th century.
Tasks
1. Look at Source 1. This is a map of the Trimdon area in 1857.

Make a list of all the different things you can see on the map.
Where did people work?
Were the houses big or small?
In 1857, was it a large town?
Was Trimdon a middle class or working class area? How did you make up your mind?
Why do you think a railway was needed in Trimdon?
2. Look at Source 2. Now look at the same area in 1897.

What things changed or stayed the same between 1857 and 1896 in Trimdon?
Why do you think Trimdon had become a bigger place in 1897?
Do you think people did the same jobs in 1897 as they did in 1857?
Around what part of Trimdon has the railway grown?
3. Look at Source 3 a, b and c. Look at all of the photos. Can you match the photographs to the correct place on the map?

Describe the houses in Rose Street.
What piece of clothing did most girls seem to wear?
What seems to be the main form of transport?
What type of street is Commercial Street? Hint: The clue is in the name of the street.
In what ways is Commercial Street different from a high street today?
Do you think that the people who lived in Rose Street were better or worse off than those who lived in Commercial Street? Explain how you made up your mind.
4. Read Source 4. This is part of the 1881 census return for Trimdon.

Make a list of all the jobs that people on this street did.
How many people did each job?
What does this tell you about what kind of place Trimdon was?
At roughly what age did children go out to work?
Who was the youngest worker on this street?
Who is the oldest person in this street?
Did all the women go out to work?

Transcript of Census Return for Trimdon Grange 1881 (RG 11/4904) (20.00 Kb)
5. Look at Source 5. This is a drawing of a coal miner.

Find:

The town
The miner
A pick-axe
Factories

Does the drawing make mining look like an easy job? Give reasons for your answer.
The town and the factories all need the coal that the miner is digging. The miner's hard work means that homes are warm, dinners are cooked and factories work. What is resting on the miner's back?
Without miners what would happen?
6. Make a leaflet for visitors to Trimdon in the 19th Century. In the leaflet explain:

how Trimdon has changed over the years
what most people in Trimdon do for a living
what Trimdon looks like

Include some drawings or a small map.
Background
Teacher's notes