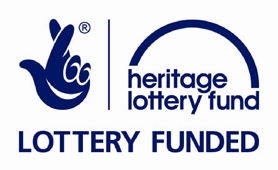 Transforming Archives was funded by the National Lottery Heritage Fund's Skills for the Future programme.
The project provided 37 paid traineeships for people new to the sector between 2014 and 2017 in England. The year-long traineeships provided an introduction to archives, training and on-the-job development.
Our trainees were hosted by a range of archive services, who invested time and resources to share their knowledge and expertise, whilst providing our trainees with an exciting start in the archive sector.
To find out more about this project please read the independent evaluation report, which was produced in conjunction with our sister project, Opening Up Scotland's Archives.
Malcolm's story
Digital Archives Assistant Malcolm Mathieson works at the National Theatre Archive in London. Find out what his job involves:
Lizzie's story
Lizzie completed a one-year Transforming Archives traineeship and found a rewarding job using her skills:
Hannah's story
The need for digital skills in archives is of growing importance as we collect, preserve and provide access to born-digital and digitised records. As a former trainee on the Heritage Lottery funded 'Transforming Archives' scheme, I was eager to see where my digital enthusiasm could be applied in the world of archives.
I began my archives career in 2014 as the trainee in Outreach and Digitisation at the Hull History Centre, where I enjoyed a year of on-the-job training while broadening my knowledge and being part of a cohort of trainees. My interest in interactive media as learning platforms, particularly 3D, web and videogames, led me to immediately delve into the Hull History Centre's existing outreach project: HullCraft. This project used the sandbox video game of Minecraft as a virtual playground for engaging younger audiences with the architecture of Francis Johnson, a prominent local architect whose building plans were deposited at the archive. My role involved assisting with the planning and delivery of workshops, and the development of the learning space within the Minecraft game.
In addition to outreach, I received training in digitisation which was an exciting opportunity to experiment with cameras and software. My two main projects were the digitisation of Francis Johnson's grand tour diary featuring intricate architectural illustrations, and also the cartoons of political cartoonist Victor 'Vicky' Weisz. You can read more about my time at the Hull History Centre in my previous blog post.
My year at the Hull History Centre paved the way for further exciting opportunities in the archives sector. I'm now fortunate to be working as an Archives Assistant at the East Riding Archives (ERA) and will shortly qualify as an archivist. At ERA we are currently working on projects combining digital skills, technologies and outreach. Supported by the Heritage Lottery Fund, 'Trawling Through Time' is ERA's latest project working to catalogue and digitise the ship plans of Cook Welton & Gemmell Shipbuilders. As part of the project I will be delivering an 'Archives in 3D' workshop where I will be tutoring participants in the creation of digital reconstructions of historical ships using the plans. I previously presented a talk on our 'Archives in 3D' Hull City of Culture workshops at the Discovering Collections Discovering Communities (DCDC) 2017 conference. These projects are in addition to the ongoing technical work I'm involved with behind the scenes to ensure our digital heritage is preserved and accessible for the next generation. My traineeship was invaluable in helping me find my life career in utilising my digital skills to enthuse audiences with heritage.
Our Transforming Archives digital trainee brought a new and fresh perspective on all things digital – they helped us embrace the challenge and the possibilities.
Simon P Wilson, Hull History Centre